AP Photo/Kevork Djansezian
ANALYST
PREDICTION
J.A. Adande
ESPN.com

PACIFIC: 4 | WEST: 12 With Elton Brand and Shaun Livingston injured and Sam Cassell aging, even last year's disappointing season will feel like the good old days. At least they contended for the playoffs in 2006-07. By New Year's Day they'll be far out of the race.
Greg Anthony
ESPN.com
PACIFIC: 5 | WEST: 13 Tim Thomas and Cuttino Mobley will have to step up, and Sam Cassell must have an impact. This roster is not built to absorb the loss of Elton Brand. The Shaun Livingston loss is also huge.
Jon
Barry
ESPN.com

PACIFIC: 4 | WEST: 11 Ah, back to the team we know and love. Last season, we saw a rash of selfishness -- a Clipper team acting like the Clippers. Before his injury, I was surprised by the season Shaun Livingston had -- things didn't go well.
Chris
Broussard
ESPN Mag

PACIFIC: 5 | WEST: 14 Talent is not lacking, but something else is. And I'm not just talking about Elton Brand. There's no way the great Sam I Am, soon to be 38, will be healthy enough to be counted on, and without him, the Clips are rudderless.
Ric
Bucher
ESPN Mag

PACIFIC: 4 | WEST: 10 Apparently, if you've played any point guard at all, you, too, could be in red and blue this fall. The key issue with the team last year was chemistry and last I looked, the same crew is cookin' the same brew this year.
Chad
Ford
ESPN.com

PACIFIC: 5 | WEST: 14 The Clips left the cellar, breaking out for a couple of years only to find themselves now as possibly the NBA's worst team. Without Elton Brand or Shaun Livingston, everything falls on Sam Cassell, Corey Maggette and Chris Kaman. I'm not optimistic.
Jemele
Hill
ESPN.com

PACIFIC: 5 | WEST: 15 Ah, the Clippers we're used to have returned. No Shaun Livingston, no Elton Brand and a 38-year-old Sam Cassell. Three reasons the Clips will be the worst team in the NBA.
John
Hollinger
ESPN.com

PACIFIC: 5 | WEST: 15 Even before Brand's injury, this looked like a sinking ship. Now it seems positively hopeless. Estimates vary on when he'll return, but the one certainty is that the Clips' playoff hopes will be sunk long before then.
Chris
Sheridan
ESPN.com

PACIFIC: 4 | WEST: 10 It was fun having them as a one-hit wonder back in '05-06, but things will not go well right from the get-go this season with Elton Brand on the shelf and Shaun Livingston working his way back from a crippling knee injury.
Marc
Stein ESPN.com

PACIFIC: 4 | WEST: 11 The Clips aren't as barren talent-wise without Elton Brand as last season's Grizzlies were without Pau Gasol. But you can understand the comparisons, because losing EB in the summertime essentially ends L.A.'s season before it starts.


TOTAL PACIFIC: 4.5 | Standings WEST: 12.5 | Standings
Team Strength: Wing Defense
OK, I'm grasping at straws a little. Normally I'd put shot-blocking and post scoring at the top of the list, but normally Elton Brand isn't out for half the season. While he's gone this is likely to be the Clippers' biggest strength, even though their new go-to scorer (Corey Maggette) is a wing who doesn't play much D. That's because the other Clipper wings defend very well. Quinton Ross can't score but he's an elite defender whom they can put on an island against the likes of Kobe Bryant or Dwyane Wade. Ruben Patterson is another ace who can play both forward spots and gives the Clips a rare ballhawk in the passing lanes. And while Cuttino Mobley appears to be fading, his D remains pretty solid too. As for Maggette … OK, not so much. •
John Hollinger's complete Clippers forecast


STARTERS
ANALYSIS
Sam Cassell
Point Guard
6-3 | 185
How do we put this gently? He's as old as Led Zeppelin.
Cuttino Mobley
Shooting Guard
6-4 | 215
Quietly matched career high of 44% FG last season.
Corey Maggette
Small Forward
6-6 | 225
He'll be shooting so often, he could be Clips' all-time scorer by January.
Tim Thomas
Power Forward
6-10 | 240
Show us a more drastic drop-off than having this guy replace Elton Brand.
Chris Kaman
Center
7-0 | 265
If any season calls for more than 12 points and a cloud of dust, this is it.
ESPN The Magazine's NBA Preview hits newsstands October 24.
Tim Thomas
Player efficiency rating
projection: 11.62
vs. NBA avg.:

-3.38


Clippers profiles

Scouting report: Though 6-10 and 240 pounds, Thomas is much more comfortable playing on the perimeter. He loves to spot up at the 3-point line and fire away, and those shots accounted for nearly half his output last year.
The Clippers also called a lot of isolations on the block for Thomas last season, which I didn't understand and which weren't effective. Hopefully, they'll delete that from the playbook this season. Interestingly, Thomas fared very badly from the left side of the floor last season -- he made only 22.4 percent of his 2-pointers from there, the worst mark in the league by anyone with more than 100 attempts, and wasn't much better on 3s (33.1 percent).
Defensively, Thomas struggled to keep up when the Clippers played him at small forward -- something they did with shocking frequency. He lacks both the dexterity and desire to chase players through screens, resulting in a series of open looks off pin-downs for whomever he guards. He fares a little better when he can play power forward, especially if his opponent isn't physical.
2007-08 outlook: The injury to Elton Brand gives Thomas a starting role on a silver platter, so his per-game numbers should take a nice jump.
But even with his renewed zeal on the boards, it's not clear how he can keep up with the West's elite power forwards at the defensive end. Look for him to score in the mid-teens and make nearly 40 percent of his 3-pointers, which should make him a nice fantasy pickup, but in real life his shortcomings are much less glaring when he's limited to playing 20 minutes off the bench.
If you got some quality time with your team's GM (like those lucky dudes from 3 Shades of Blue), what would you ask?
Kevin Arnovitz, ClipperBlog:
I'd ask Elgin Baylor who, exactly, was going to bid $52,500,001 on Chris Kaman. I'd ask him to personally perform gastric bypass surgery on Sofo Schortsianitis. I'd ask him to lace that Zebra Caramel Corn at Staples with some Percocet this season … at least until Elton returns. I'd ask him to send some nice Omaha Steaks to the malnourished and pension-poor Keith Closs.
• TrueHoop, ESPN's NBA blog
Chad Ford's Dish: '07-08 Preview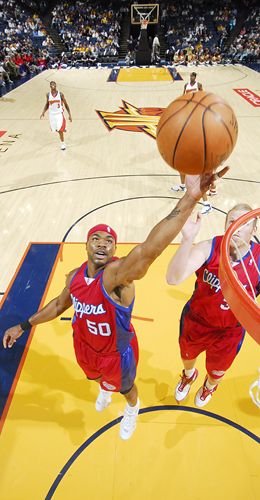 Rocky Widner/NBAE via Getty Images
Last season, Maggette was a bigger factor than the Clippers expected, while Kaman shrunk from the challenge. This year, with Brand out, the Clips will need both to be huge.

Mike Dunleavy
Experience: 14 years
Record: 550-566
Playoffs: 38-33
NBA titles: 0
Coach's profile
If losing Elton Brand wasn't bad enough to start the season, Mike Dunleavy is faced with finding a way to keep the Clippers together against a November schedule with 10 of the 14 games against playoff teams from last season. He'll have to play master motivator while coming up with plans to score more effectively -- L.A. was in the bottom 10 in the league in offensive efficiency last season -- without Brand. And he'll hit on the idea of hanging tough until Brand returns. But keeping the Clips out of the cellar will be quite the challenge.
• David Thorpe, Scouts Inc.
Sleeper: Chris Kaman
Kaman went
Erick Dampier
on the league, totally flopping after a superb 2005-06 that maybe not-so-coincidentally occurred in a contract year. The loss of
Elton Brand
for at least the first half of the season, and maybe the entire season, makes Kaman the No. 1 low-post option. He has a shot to be a fantasy monster.
Bust: Cuttino Mobley
The signing of
Ruben Patterson
, in addition to the presence of defensive stopper
Quinton Ross
, is an indication Mobley should see his minutes decline this season. And he has been on a steady decline for the past couple of years.
• Pacific Preview | Fantasy Hoops