Barry Gossage/NBAE via Getty Images
ANALYST
PREDICTION
J.A. Adande
ESPN.com

PACIFIC: 1 | WEST: 2 Feels like it's one last chance to try things their way, before Shawn Marion's gone or Steve Nash slows down. They'll miss Kurt Thomas against Tim Duncan in the playoffs.
Greg Anthony
ESPN.com
PACIFIC: 1 | WEST: 2 Steve Nash isn't getting any younger. Shawn Marion's expressed his overall displeasure. These Suns aren't wining 61 games again, but they're still the class of the division.
Jon
Barry
ESPN.com

PACIFIC: 1 | WEST: 2 Love the Grant Hill addition. I could see him being the backup PG, or point forward. Leandro Barbosa's better off the ball; he doesn't handle the point as well. Nash's back woes raise concerns of closing windows.
Chris
Broussard
ESPN Mag

PACIFIC: 1 | WEST: 1 Don't let Marion's trade demand fool you. He's been a pain in the rear for years, yet the Suns have soared. Last season's Game 4 victory at San Antonio got Suns over a major mental hurdle (despite the subsequent suspensions), and they'll finally clear the hump entirely this year.
Ric
Bucher
ESPN Mag

PACIFIC: 1 | WEST: 1 Grant Hill has something left and D.J. Strawberry is a second-round steal, but whether or not the Suns can win a ring will be determined by how physical the league allows the postseason to be played.
Chad
Ford
ESPN.com

PACIFIC: 1 | WEST: 1 For the regular season, the NBA's best team. They'll be smaller without Kurt Thomas, but if Boris Diaw returns to form, the trade's worth it. But when the playoffs come? All bets are off.
Jemele
Hill
ESPN.com

PACIFIC: 1 | WEST: 3 They'll again be the most fun team to watch in the NBA. If Grant Hill stays healthy, he will be looked upon as one of the smartest offseason pickups. But the Suns are frail inside after losing Kurt Thomas. Not sure they're any closer to a title than they were a season ago.
John
Hollinger
ESPN.com

PACIFIC: 1 | WEST: 4 It's an 82-game season, they have seven players, and one of them is Grant Hill. Uh-oh. I think they'll hit some bumps, but if they survive the slog, they'll be dangerous come springtime.
Chris
Sheridan
ESPN.com

PACIFIC: 1 | WEST: 2 Hard to put a finger on them right now with so much Shawn Marion chatter floating around the league, but I think they'd be crazy to swap him for Andrei Kirilenko (or Lamar Odom and change). But they've been making bad deals since last season ended, so one more wouldn't shock me.
Marc
Stein ESPN.com

PACIFIC: 1 | WEST: 1 I think the run-and-shoot boys will win it all one of these years and I strongly dispute the notion that Nash is running out of chances. Yet it does seem safe to say that this season is probably the last hurrah for the Nash-Amare-Marion triumvirate to get it done.


TOTAL PACIFIC: 1.0 | Standings WEST: 1.9 | Standings
Team Strength: Transition Offense
This might be the fastest NBA team ever assembled, and if you thought they were great offensively last season you might not have seen anything yet. The replacement of the team's slowest rotation player (Kurt Thomas) with one of the league's fastest (Grant Hill) means the Suns are going to push the pedal even further to the metal this season. Amare Stoudemire and Shawn Marion will form an undersized frontcourt that figures to exploit slower big men in transition, leaving opponents with the usual conundrum of how to match up against this team. That extends to the second unit, where blazing-fast Leandro Barbosa and, possibly, Marcus Banks, will head the backcourt unit while backup "center" Boris Diaw can run opposing big men into the ground or torture them on drives from the high post. Rookies Alando Tucker and D.J. Strawberry both are good athletes as well and figure to get their chances in the Suns' running game. And of course, running the show is Steve Nash, who is as good at throwing it ahead as anyone in the game and should have plenty of targets again. •
John Hollinger's complete Suns forecast


STARTERS
ANALYSIS
Steve Nash
Point Guard
6-3 | 195
League's best all-around shooter now, and possibly ever.
Raja Bell
Shooting Guard
6-5 | 210
Finally has common ground with Kobe: a balky knee.
Grant Hill
Small Forward
6-8 | 225
D'Antoni thinks career 25.1% shooter from arc can hit 40% in system. Right.
Shawn Marion
Power Forward
6-7 | 228
Hates playing PF, but with Hill around, he'll be there more than ever.
Amaré Stoudemire
Center
6-10 | 245
No choice but to play D now that safety net Kurt Thomas is gone.
ESPN The Magazine's NBA Preview hits newsstands October 24.
Amare Stoudemire
Player efficiency rating
projection: 23.73
vs. NBA avg.:

+8.73


Suns profiles

Scouting report: Stoudemire is perhaps the best finisher in the game, either throwing down vicious dunks when he cuts to the basket off screen-and-rolls or beating his man off the dribble with a quick move to his right.
He's started to add moves to his left as well, and he can hit the 15-footer if left open (he shot 45.1 percent on long 2-pointers last season) so defenders are in quandary as to how to stop him. Defensively, he still needs work, but he improved a lot over the course of last season. He upgraded his post defense -- he will be put to the test in that department now that Kurt Thomas has been traded -- and his effort level increased considerably. That said, he could be a lot more active from the weak side, and considering his athleticism he's a fairly poor shot-blocker. He also won't give a foul to stop a basket.
2007-08 outlook:
With the microfracture thing behind him, it once again seems the sky is the limit for Stoudemire. And don't fret too much about that knee surgery in early October either -- while the pattern is troubling, it's supposed to keep him out only 2-3 weeks. Big picture, he's one of the league's most explosive offensive players and plays in a system that makes it easy for him to pile up the points. Fantasy players should note his minutes are likely to increase quite a bit this season, taking his per-game averages with them. But Stoudemire's season will also be judged by what he does at the other end. With Thomas gone, he'll be the starting center and will have to provide much more resistance than he has provided in previous seasons. It won't show up in the box score, but it will have a great bearing on whether the Suns can achieve their goal of winning the title.
If you got some quality time with your team's GM (like those lucky dudes from 3 Shades of Blue), what would you ask?
Matt McHale, Basketbawful:
Steve Kerr once launched his face directly at Michael Jordan's legendary fist. That incident proved two things: (1) Kerr doesn't care about his face, and (2) he clearly suffers from Testicular Gigantism. The five-time champion is now general manager of the Phoenix Suns -- the NBA's paper champions -- whose offseason needs were depth and interior defense. Instead of going after Kevin Garnett or even James Posey, Kerr gave away Kurt Thomas and two future first-round draft picks. Sure, he signed Grant Hill on the cheap, but this guy once stood up to Michael freaking Jordan. Where were Kerr's cojones this summer?
• TrueHoop, ESPN's NBA blog
---
Chad Ford's NBA Dish: '07-08 Preview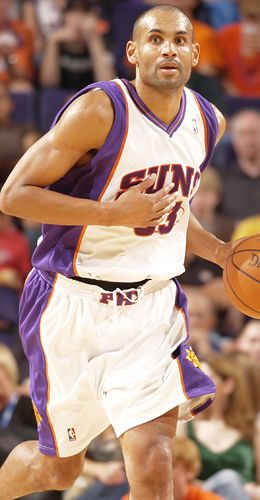 Barry Gossage/NBAE via Getty Images
Point forward Grant Hill looks right at home in purple and orange.

Mike D'Antoni
Experience: 5 years
Record: 212-145
Playoffs: 25-21
NBA titles: 0
Coach's profile
Mike D'Antoni has announced his intention of running even faster this year, which will require some pushing from the head coach as the season reaches its midpoint. There are fair concerns about the Suns' bench, so expect D'Antoni to give them time to develop, while keeping an eye on the standings; he can't fall too far behind the front-runners in the process. Hard to imagine this team improving on last year's defensive effort, so more offense is a must, and that's no easy trick.
• David Thorpe, Scouts Inc.
Sleeper: Boris Diaw
Diaw struggled to adapt with the return of Amare Stoudemire, but there is still some hope for a rebound. First, Diaw is just 25. Also, Diaw, with that big contract, will get the chance to prove himself all over again.
Bust: Shawn Marion
Entering last season, it wasn't hard to make a case Marion was the top fantasy basketball player, as the only category he was below average in was assists. The return of Stoudemire last season made the frontcourt quite crowded, and the Suns could afford to tax Marion less. The upshot: Marion's never going to have another season like his 2005-06 again.
• Pacific Preview | Fantasy Hoops