1. LeBron's Farewell Game In Cleveland?
By Chris Sheridan
ESPN.com
CLEVELAND -- It was exactly 11:43 p.m. ET when LeBron James, wearing a cream-colored sweater and sneakers, walked through the exit door next to the loading dock and strode to his car for what may have been his final drive home from the place he has called home for seven years.
What you couldn't get a reading on was how James was feeling in his soul, the soul that he tried to claim had not been damaged by the ringing in his ears caused by the boos during Cleveland's 120-88 drubbing at the hands of the Boston Celtics -- boos unlike anything James had ever heard before in Cleveland.
If this was his last home game here, that's what they sent him off with.
"I spoil a lot of people with my play," James said in one of the few borderline candid comments he made in his postgame interview. "When you have a bad game here or there, you've had three bad games in a seven-year career, then it's easy to point that out. So you got to be better.
"I put a lot of pressure on myself to be out there and be the best player on the court, and when I'm not I feel bad for myself because I'm not going out there and doing the things I can do. But I don't hang my head low or make any excuses about anything that may be going on, because that's not the type of player or person I am."
He wasn't making excuses, but he also wasn't providing much in the way of an insightful explanation for a 3-for-14 shooting night on which he seemed tentative, hesitant, de-energized, confused and oh, so human.
As this game started getting away from the Cavs late in the first half and early in the third quarter, you kept waiting for the moment when James would begin to assert himself and start playing like not only the MVP, but like the man who supposedly is on a far broader mission to bring a title to this snakebitten city that hasn't won a championship in any major professional sport since 1964.
But every time James brought the ball over the midcourt line, two defenders started to converge on him and he gave it up.
When someone else brought the ball upcourt, James was too often sitting idle in the corner, or fighting to get a clear line of sight between himself and the ball without having Paul Pierce block the view.
James didn't make a single shot in the first half, didn't get his first field goal until the third quarter was nearly halfway done, and had almost zero impact in the area in which the Cavs failed most as a team -- on the defensive end.
When he went to the line early in the fourth quarter with the home team having turned a six-point halftime deficit into a 22-point hole it wasn't going to climb out of, there was no mistaking whom the boos were being directed at as James missed the first of two free throws.
"It's not a big thing," James said. "We played awful, and they've got every right to boo us if they want to. No disrespect to the fans. They've seen us at our highest level and our lowest level. If they felt it was right to boo, so be it."
Only about 4,000 witnesses remained in their seats by the time the final horn sounded, James having spent the final 3:58 on the bench chewing his fingernails.
When it was over, before he even made it from the bench to the door of the locker room, James was stripping off his white home Cavaliers jersey -- a jersey, it must now be said, he may never wear again.
The time was 10:53 p.m. ET, and the only person who preceded James through the exit tunnel was stone-faced Cavaliers owner Dan Gilbert, resplendent in a nifty blue suit that also betrayed his mood.
Like LeBron, he was silent in the few seconds before he disappeared from view. The big difference was that Gilbert went one way and LeBron went another, a visual we may come back to after July 1, when the Summer of LeBron officially begins. For now, we are left with what has turned into a very stormy spring, with the NBA's No. 1 team and No. 1 superstar on the verge of having their season end Thursday night in Boston if the Celtics can finish this thing in six.
Defensively, they looked every bit as dominant as the Celtics team that won the championship two Junes ago.
Mentally, they have done a complete 180-degree turn after their own debacle of a home loss in Game 3.
Offensively, they're just plain better.
And when James is off his game the way he was on this particular Tuesday, the Cavs simply can't compete with Boston. So either James brings it in a big way Thursday, or we can bring on the educated guesses as to where he'll play next. And at this point, you'd have to rank Cleveland as the third choice on the morning line behind New York and Miami, maybe even fourth behind Chicago.
"Of course their defense had a lot to do with it, they were aggressive, but I missed a lot of shots I usually make," James said. "You don't see this out of me a lot, so when it happens it's a surprise. But they didn't guard me any differently."
Aside from the booing, what struck you as the end of the night unfolded in all its anti-glory were the other things you were hearing, statements of finality from fans and employees alike.
At the employees' exit, security guards and concession stand workers joked that now it was time to start cheering for Kobe, and how hopefully the weather (cold and rainy) would turn better by the weekend, what with Sunday (the day of Game 7 of this series or Game 1 of the Eastern Conference finals) shaping up as an unexpected off day.
James kept to himself in the locker room, momentarily popping out of the back room to drop his iPad on the empty chair in front of the spare locker next to his own, a "How ya doing?" being returned with an unexpected "Great."
Great?
On this night, James was as far from great as he has been at any major moment of his career. The odd thing was, he didn't seem overly distressed or disturbed by the predicament he and his team now find themselves in.
It was all kind of just too weird.
But then again, who ever could predict what it's going to look like when a city's dream and a player's era come to an unlikely end?
And if that's what Tuesday night ends up being, the last image we'll remember of LeBron the Cav was the most unsightly of games, followed by his exit of his home arena for what was the final time.
ESPN Insider Chris Sheridan is a regular contributor to the Daily Dime.
Dimes past: April 23 | 24 | 25 | 26 | 27 | 28 | 29 | 30 | May 1 | 2 | 3 | 4 | 5 | 6| 7 | 8 | 9 | 10
2. Allen's Shooting Gets The Celtics Rolling
By Zach Harper
TrueHoop Network

Allen
With all the weapons Boston has at its disposal, is it possible Ray Allen is the most important one? We all know that Paul Pierce is their main scorer, Kevin Garnett is their vocal leader and Rajon Rondo is the creative force on the team. However, when Allen has his jumper falling the way it did in suffocating the Cavaliers' defense in Game 5, he may end up being the most important artillery the Celtics utilize.
Since Allen joined Boston in 2007, the Celtics are 24-8 (including playoffs) when Ray has at least 20 points and makes five 3-pointers in the same game. Tuesday night against the Cavs showed exactly why the winning percentage is so high on these nights. With Allen's catch-and-shoot ripping through the nets, the Cavaliers had to adjust everything they did well defensively in the first half and account for the perimeter threat Allen was imposing on them in the second half.
Early in the game, Cleveland could pack the paint against Rondo and take away every driving and passing lane. It resulted in Rondo's scoreless and forgettable first half. Once Allen was able to get hot and raise the threat level on the perimeter, the Cavs could no longer afford to focus on stopping Rondo.
Any off-ball screen involving Allen meant two defenders had to shade toward the perimeter to deny the pass. With two players farther away from the paint, Rondo had more room to operate with the ball. He exploded for 12 third-quarter points and helped extend the lead past anything Cleveland was willing to try to overcome. Allen's hot shooting has a way of opening the floor for his teammates and making the defense paranoid. It also has his team one win away from the conference finals.
To read more from Harper, click here
3. Big Three Step Up For Celtics
By Chris Forsberg
ESPNBoston.com

Pierce
Maybe the Big Three and Rondo can just share that proverbial torch. Boston's starting five combined for 90 points, single-handedly outscoring Cleveland on its own, as Ray Allen poured in a team-high 25 points behind six 3-pointers and Paul Pierce shook his offensive slump enough to register a double-double by scoring 21 points on 9-of-21 shooting to go with 11 rebounds. Rajon Rondo didn't come close to his numbers from the other night, but after a scoreless first half, he finished with 16 points and seven assists, fueling Boston's second-half runaway. LeBron James didn't register a field goal in the first half.
To read the entire blog, click here
4. Daily Dime Live Recap
ESPN.com writers and TrueHoop Network bloggers chatted with fans and gave their in-game opinions throughout Tuesday's game -- all in Daily Dime Live.
---
By Maurice Brooks
ESPN.com
TUESDAY'S BEST

Allen

Ray Allen, Paul Pierce, Celtics
Allen knocked down six of his nine 3-point attempts en route to scoring a game-high 25 points, while Pierce did a little bit of everything, finishing with 21 points, 11 rebounds and seven assists.

TUESDAY'S WORST

James

LeBron James, Cavs
Who was that guy wearing the Cavaliers jersey with No. 23 and "James" on the back? Cleveland goes as LeBron goes, so it shouldn't come as a surprise that the Cavs were hammered with LeBron playing below his lofty standards.

QUOTE OF THE NIGHT

"One of biggest playoff wins in KNICKS history."

-- ESPN.com's John Hollinger on his Twitter account about LeBron possibly leaving the Cavs this summer as a free agent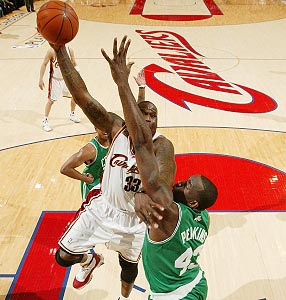 David Liam Kyle/Getty Images
With LeBron James struggling, Shaquille O'Neal did what he could on offense for the Cavaliers, scoring a team-high 21 points on 7-for-11 shooting. He also blocked four shots.
8.

Making Playoff History

The Cavaliers, who were 61-21 (.744) in the regular season, became the first NBA team with a regular-season winning percentage of .700 or better to lose a home playoff game by at least 30 points.
The Celtics massacred the Cavaliers by 32 points in Cleveland in Game 5, just two games after the Cavs beat the Celtics by 29 in Boston.
It's the first time in NBA history that each team won a road game by at least 29 points in the same playoff series.
To read more from Elias, click here
9.

Prokhorov Comes Just In Time

On the day Mark Cuban is battling the notion that his Mavericks are barely solvent, Mikhail Prokhorov arrives on the scene to compete for the title of "owner NBA fans most dream of becoming."
Prokhorov is not just one of the richest owners in sports. He's a flashy billionaire who parties with large numbers of attractive young women. He's a 6-foot-8 workout addict who can dunk and flip a Jet Ski. As "60 Minutes" tells it, the Russian has more planes, boats, swimming pools and parties than you can handle.
But do not overlook the fact that he brings a ton of business savvy to the table, and not just in the deal with the government that landed him Norilsk Nickel.
From a March TrueHoop post:
He has displayed extraordinary business competence ever since he started a stonewashed jeans business in the early days of Russian capitalism (and before that, the former Soviet soldier was so effective a leader, organizing students at his night job unloading railway cars, that he says he made more than many doctors). Further business victories have come from currency exchange and banking. Watch his extended interview with Bloomberg TV. It's a little businessy, for sure, and it's more than a half-hour. But after watching, you'll believe me when I tell you he's blatantly a very strategic thinker who works hard, has a talent for management and delegation, and gets consistently good results.
And, even better, he looks like an owner who will delegate meaningful authority. He talks authoritatively about the long-term strategy of his businesses, which drives his investments. But again and again he also makes clear that the day-to-day operations are the duties of the competent people he hires. (At one point, for instance, he says he has no sense of his own household expenses … but he has people he entrusts to run it well.) If you're a GM with a vision, that's music to your ears.
His strategic leadership alone would likely improve the Nets' performance in the near term. But remember, this is the NBA team that has proved winning is not always the perfect medicine. This is the team that made it all the way to the NBA Finals, twice, and still somehow never became cool and never became the place to be. That's why it matters that, in addition to business competence, Prokhorov brings the potential to be a bit flashy in a way that could go a long way to overhauling the team's dreary image.
To read the entire blog entry, click here