1. Mavericks Facing Big Uphill Climb
SAN ANTONIO -- Dirk Nowitzki couldn't have looked much more relaxed. He leaned back in his folding chair, propped his right arm on an adjacent seat and even tapped the microphone between questions after taking it out of its stand.
He certainly didn't look like a guy whose 55-win team had just been shoved to the brink of first-round elimination.
Yet that was merely what those watching the postgame press conference on NBA TV saw. By the time he made it to the podium, wearily plopping down in front of a media crowd late Sunday night to dissect the Dallas Mavericks' third successive defeat to San Antonio, Nowitzki had already spent nearly a half-hour sitting and seething in solitude on a training table, unable to put down the stat sheet in his hands.
Nowitzki's relaxed honesty in the interview room was preceded by some blunt regret at his locker once he finally got up off that table. Responding to San Antonio's 92-89 victory and the 3-1 deficit his Mavericks now face, Nowitzki muttered: "If Duncan goes 1-for-9 and Ginobili goes 4-for-16, you've got to win that game."
Got to.
But Dallas couldn't, and didn't. The Mavericks might never again get this kind of welcome in the Alamo City -- where Tim Duncan managed only four points on his 34th birthday and combined with Manu Ginobili and Tony Parker for a mere 31 points as a trio -- and it still wasn't enough. Not even with an 11-point lead at the half to build on.
The Mavs instead submitted another regrettable entry for their playoff meltdown collection, invoking memories of the 2006 NBA Finals and a 2007 first-round flameout against Golden State by giving in to the Spurs' third-quarter physicality. With the Spurs swarming and banging on Nowitzki as much as they were allowed to and a team-wide loss of composure when things got frantic, Dallas mustered just 11 points against a rally inspired by this surprise quartet from the home team: Richard Jefferson, Antonio McDyess, DeJuan Blair and Game 4's hero, George Hill.
Game 5 is thus a win-or-go-home game for the West's No. 2 seeds, after they surrendered home-court advantage in Game 2 to the peaking Spurs and then dropped back-to-back games in San Antonio by a combined seven points.
If you expected more from a group that had the league's best road record (27-14) during the regular season and likewise posted the NBA's gaudiest record in close games -- 18-7 in games decided by five points or less and 35-12 over the past two seasons -- you're not alone.
"It's tough," said Nowitzki said, limited to 17 points and 11 rebounds by McDyess and his help defenders, after scoring 35 points in Game 3. "I'm not going to sit here and lie."
The blow is only slightly softened by the growing realization that the Spurs won't exactly be confused with Golden State in '07. These guys aren't anti-establishment wild cards like those Warriors were. The Spurs have their core of three proven champions and an early candidate for breakout star of the playoffs in Hill, who has shaken the ankle injury that made him a nonfactor in Game 1 to trouble Mavs catalyst Jason Kidd at both ends and step up with a flurry of corner 3s and a clutch 29 points Sunday to bail out the birthday boy.
Exactly a year ago, when Duncan turned 33, Dallas inflicted a Game 4 defeat on the Spurs that gave the Mavericks a 3-1 series lead, ushering Duncan to the brink of the only first-round loss he's ever been a part of. Yet with Hill quickly blossoming, Parker willingly accepting his new sixth-man role and Ginobili on the floor this year -- having taped up his nose, broken in Game 3, and surviving Game 4 without a mask despite Eduardo Najera's around-the-neck takedown in the fourth quarter -- Duncan is suddenly swimming in help.
"[Hill] won the game for them," Mavericks swingman Shawn Marion said.
Added Nowitzki: "They made stuff happen with their defense, and we didn't respond the right way. … They've gotten healthy at the right moment. They're probably one of the best seventh seeds you can run into."
The Mavs, though, never imagined they'd have this much trouble scoring against the intrastate rivals they know so well. They came into this series figuring that the Spurs' razor-sharp team D and noisy fans, however daunting, were nothing they hadn't conquered before. Especially after a midseason trade that seemed to significantly upgrade Nowitzki's supporting cast.
Nor was Dallas expecting to see the Los Angeles Lakers look so vulnerable this early, which significantly raises the stakes of this first-round showdown, because the winner has growing hope of making it all the way to the NBA Finals.
But now, without a dramatic turnaround starting Tuesday night, Dallas will be confronting difficult questions about its future far earlier than anyone connected with the team imagined.
Midseason arrivals Caron Butler and free agent-to-be Brendan Haywood just haven't clicked, which will soon force Mavs management to weigh whether that would change if they're given more time or if the fits just aren't right, no matter how promising they seemed during a 13-game winning streak that is an increasingly distant memory.
One source with knowledge of the Mavericks' thinking conceded that an early exit, furthermore, would only increase the likelihood that they will pursue another roster shakeup this summer, through sign-and-trade bids for marquee free agents.
There is also the small matter of Nowitzki's own future to clarify, as he is eligible for an extension through the end of June and can still opt out of his contract to become a free agent July 1, even though Nowitzki has consistently said he hopes to retire as a Mav. Increasing heat on coach Rick Carlisle is another potential issue, with Carlisle possibly facing more win-now pressure than any playoff coach aside from Cleveland's Mike Brown or Atlanta's Mike Woodson.
One source insisted over the weekend that a first-round exit would not threaten Carlisle's job, just two years into a four-year deal that pays more than $4 million annually and with one year still remaining on Avery Johnson's contract. Yet no one is quite sure how much Mavs owner Mark Cuban will be looking to change if his team can't at least rise out of a 3-1 deficit to drag this to seven games like the Spurs did in similar circumstances in 2006.
"Not pretty," Nowitzki conceded when asked about the Mavs' mindset, not quite believing that he was fielding these sorts of questions already, and too relaxed (or tired) to stop himself from admitting that Dallas' hole is a big one.
"We thought we could get one down here."
Marc Stein is the senior NBA writer for ESPN.com. To e-mail him, click here.
Dimes past: April 4 | 6 | 7 | 8 | 9-10 | 11 | 12 | 13 | 14 | 17 | 18 | 19 | 20 | 21 | 22 | 23 | 24
2. Jamison A Perfect Fit For The Cavs
By Chris Broussard
ESPN The Magazine

Jamison
CHICAGO -- No one in the NBA has a game like Antawn Jamison. Other players shoot the ball in odd ways. Other guys have unconventional styles. But no one plays basketball like Jamison.
Contest him in the paint and he'll swing his arm 180 degrees and toss in a scoop shot underneath your armpit. Guard him on the wing and he'll go by you and finish with a one-hander across his body, even though he could have squared up and been a lot more "textbook."
To read the entire column, click here.
3. Wade Goes Off In Heat Win
By Chris Sheridan
ESPN.com

Wade
MIAMI -- Memo to Doc Rivers: If you see Dwyane Wade screaming at his right hand again, start double-teaming him at midcourt immediately. Don't do what you did Sunday and let that hot hand do any further damage.
It was two minutes and 47 seconds into the fourth quarter when Wade ran downcourt with the five fingers on his hand fully extended, just after he had knocked down a 3-pointer to give him 11 points in the quarter as part of a 14-3 burst that turned a six-point deficit into a five-point lead.
He was staring at that hand, screaming at that hand, in language Wade himself deemed too inappropriate to be repeated verbatim.
To read the entire column, click here.
4. Daily Dime Live Recap
ESPN.com writers and TrueHoop Network bloggers chatted with fans and gave their in-game opinions throughout Sunday's games -- all in Daily Dime Live.
---
By Maurice Brooks
ESPN.com
SUNDAY'S BEST

James

LeBron James, Cavaliers
It would take a pretty special performance to keep Dwyane Wade (46 points in a Heat win) out of this space. LBJ's 37 points, 12 rebounds and 11 assists -- his fifth career postseason triple-double -- qualified.

SUNDAY'S WORST

Hinrich

Kirk Hinrich, Bulls
One of the reasons the Bulls won Game 3 against the Cavaliers was the hot shooting of Hinrich. Unfortunately for Chicago fans he couldn't duplicate that performance in Game 4, going 3-for-13 from the field for 10 points.

QUOTE OF THE NIGHT

"In kid-friendly terms, I was telling him he was hot."

-- Miami's Dwyane Wade on what he was saying to his hand in the fourth quarter
7.

Bulls Waste Noah's 20-20 Effort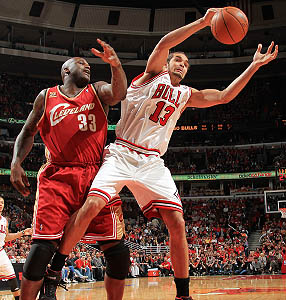 (Joe Murphy/NBAE/Getty)
Joakim Noah did more than his part, scoring 21 points and grabbing 20 rebounds, but it wasn't enough to keep the Bulls from falling to the Cavaliers at home in Game 4.
By Kevin Arnovitz
ESPN.com

Boozer
SALT LAKE CITY -- "Fun" is not exactly a high-usage word in Jazz head coach Jerry Sloan's vocabulary, but on Sunday before Game 4 between the Jazz and the Nuggets, the plain-spoken Sloan was unusually sunny about his team's resilience in this series.
"It's fun to watch what they're trying to accomplish," Sloan said. "If we can run our offense and execute it, and set screens to help each other, I think we can score every time -- if we can make the shot."
On Sunday night, the Jazz didn't make every shot, but they finished the night 53.2 percent from the floor en route to a 117-106 win over Denver to take a 3-1 series lead back to Denver.
"We execute," Jazz forward Carlos Boozer said. "We're doing a good job of spacing. We've got shooters at a couple of different positions."
Not unlike in Game 3, a hyped-up Jazz squad needed some throat-clearing in the opening minutes. But once they settled in, the Jazz smoothly ran Sloan's offense against a disjointed Denver team that has yet to come up with answers on the defensive end of the floor. The Jazz turned an early seven-point deficit into a double-digit lead in a flash, and did it by playing with unparalleled energy and poise, and by assembling a full sampler of their greatest offensive hits.
To read the entire blog entry, click here.
9.

Nuggets Struggling At Wrong Time
By John Hollinger
ESPN.com

Billups
SALT LAKE CITY -- When you step back, the Denver Nuggets have a lot to appreciate about their 2009-10 campaign. They won a second straight division title, won 53 games after taking 54 last season, and again made the short list of Western Conference contenders when the playoffs began.
The key difference? A year ago they were playing their best basketball as the playoffs rolled around. This season, they're playing their worst. Tonight, the Nuggets' recent troubles in the departments of defense, passing and general comportment again rose up to strike them in a 117-106 defeat to Utah that put them on the brink of elimination. The Jazz lead the best-of-seven series 3-1 heading into Tuesday's Game 5 in Denver, and historically only eight of the 189 teams that have been in the Nuggets' position advanced to the next round.
Denver surrendered 53.2 percent shooting to the Jazz and sent them to the line 42 times, while offensively the Nuggets suffered from too much one-on-one and posted only 13 assists -- coming on the heels of a 12-assist performance in Game 3.
As for comportment, Chris Andersen and Carmelo Anthony argued on the bench after Andersen launched an ill-advised 20-footer in the second quarter, and the Nuggets committed a foolish delay-of-game violation for a technical foul with three minutes left in a nine-point game.
To read the entire blog entry, click here.