AP Photo/Tony Dejak
For LeBron, Contending With Kidd Deal Not Easy

CLEVELAND -- The Spurs' locker room was full of smiles and jokes, but down the hall at Quicken Loans Arena LeBron James shook his head at what could've been.
No, this isn't a sappy recap of the moments following Game 4 of the NBA Finals last June. It was an accurate portrayal of Wednesday night, and it had nothing to do with the Spurs' 112-105 come-from-behind victory on the back of Manu Ginobili.
Before the game, the dominant conversation -- well, in between the Roger Clemens talk -- was on the Mavericks' potential pickup of Jason Kidd for a large package of players, draft picks and cash. The deal may still be pending, but all were assuming it would get done eventually.
Two weeks ago, James said he thought being paired with Kidd would lead to a championship in Cleveland. But with Kidd likely going to Dallas, and Devin Harris going to Jersey, the Spurs seemed to feel better about their chances. In the past, Harris had burned the Spurs, including an 18-point, five-assist game earlier this season.
Maybe they would never say it to camera and microphones, but based on the locker room chatter, it sounded like the Spurs players would rather deal with Kidd instead of Harris at this point. Not to mention the Spurs wouldn't mind not seeing Jerry Stackhouse in two weeks when the teams meet up.
Meanwhile, James, who had been hoping against hope that his front office could pull off a minor miracle to land his newest NBA star friend, tried to hide his disappointment.
"No, I'm not disappointed, can't you see it in my face?" James said, staring ahead as if someone had told him his dog died.
"Of course I wanted him to be part of our team but if we couldn't get him, I am glad he is out of the East. I hope he does well for that franchise. He's a great player and a great leader."
James said he was being realistic about the Cavs' chances to pull off a major trade before next week's deadline. He said he would "never trash any of my teammates." But he would still rather be in the shoes of Kobe Bryant, Steve Nash and now, if it does get done, Dirk Nowitzki as another megastar comes to join them.
"I think the [front office] probably has been trying to do some things, I don't know," James said. "We all know we need to get better, that is simple. To me, I want to win now, I don't want to sit around and wait. Sometimes you have to."
The Spurs, as usual, are winning now. After losing the first two games of their "rodeo" roadie, Wednesday's big win helped them finish the trip 6-3 heading into the break. All of it came without Tony Parker.
The Spurs had lost four straight regular-season games to the Cavs, were down heading into the fourth and allowed James to put up 18 points down the stretch.
That doesn't sound like a winning formula until you compute Ginobili, who had 46 points on 15-of-20 shooting. He matched James with 18 in the fourth and added four assists when the Cavs double-teamed him, making the difference.
So even as their Western rivals load up, the Spurs head into vacation apparently still feeling very good about themselves.
"That's been the best part of the trip, our focus and mental toughness has really increased," Spurs coach Gregg Popovich said. "It's a chance to start to focus the way you need for the playoffs."
Brian Windhorst covers the Cavs and NBA for the Akron Beacon Journal
Dimes Past:
February 1
|
2-3
|
4
|
5
|
6
|
7
|
8
|
9-10
|
11
|
12
|
13
Pat (Boston): What would be an ideal weight for Glen Davis? His game relies on his bulk, but to become a consistent player he needs to be able to explode to the rim flat-footed. The easiest way is to drop pounds but it's a catch-22. Suggestions?
David Thorpe: Lose the weight, keep the strength. Twenty pounds would help a lot. Forty-plus pounds and he'd be all-star caliber.
Bubbles (nyc): Coach, let's say Stephon Marbury walked into your gym over the summer and told you he wanted to get his game back. What would you do?
David Thorpe: Send him to someone who has the time to devote his entire summer to one guy.
Chad (Denver): Did you see J.R. Smith Tuesday night? I wish he was more consistent. Do you think with the right help (YOU) he could be an All-Star caliber player? Tons of talent and athletic ability.
David Thorpe: See my Marbury comments.
• See the full David Thorpe chat
Sizing Up Seniors For Draft

By Chad Ford | ESPN.com
Courtney Lee, SG, Western Kentucky
Lee may be the sleeper of the draft. The longer the season progresses, the more scouts are getting on the bandwagon. While he plays for a relatively unknown team, his combination of athleticism and scoring ability have teams taking notice. He dropped 21 points on Gonzaga, 22 on Michigan and 23 on Tennessee in a very close loss. He has career highs in points scored and shooting percentage this season. He can score by both putting the ball on the floor and by pulling up for the jumper. He has above-average range and consistency on his jumper -- especially from midrange. Right now we have him in the late first round, but he has the potential to climb into the middle of the first round once he gets into workouts.
Jason Thompson, F/C, Rider
Scouts have been flocking to see Thompson the past two seasons to gauge if there's any NBA ability there. He's putting up great numbers at Rider both as a scorer and as a rebounder. He has size, a long wingspan and has good timing as a shot-blocker. He had big games against the two major opponents his team has played this year -- Kansas State and NC State -- and he's slowly shedding the "raw" label. Right now he's projected as a first-rounder, but he's the type of player who could really explode with a strong showing at the predraft camp or in NBA draft workouts.
• See the full Chad Ford story

Wednesday's Best

Manu Ginobili, Spurs guard
-- Made a career-high eight 3-pointers and scored a season-high 46 points as the Spurs edged the Cavs, 112-105 . Ginobili scored 18 points in the fourth quarter, making 4-of-4 3-pointers.
---

Wednesday's Worst

Devean George, Mavs forward:
He has his Bird rights, but that doesn't mean he can fly. First, he blocks the Kidd trade. Then he has the worst shooting night of the season, missing all 11 shots in Dallas' 96-76 win over the Blazers.
---
Quote of the Night

"I know I got no chance if Kobe Bryant has never won it."
-- Cavs forward LeBron James,
on his MVP candidacy this year compared to others.
• See Wednesday's daily leaders
-- Andrew Ayres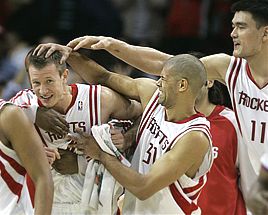 AP Photo/Pat Sullivan
Rockets reserve Steve Novak, left, is congratulated by Shane Battier and Yao Ming on his three-point shot with less than three seconds left to beat the Kings 89-87.

By Chris Broussard
ESPN The Magazine
Dallas is not going to reach the Finals as currently constructed. Now, if the Jason Kidd trade goes through, the Mavs will be as formidable as anyone. One of the greatest benefits of getting Kidd would be the mental toughness he'd bring to the Mavs. Let's just be honest here: The Mavs have not won a title the past two seasons because they have been mentally soft.
• See the full Broussard blog

Shawn Marion has 32 rebounds in his first two games for the Heat (14 on Sunday and 18 on Tuesday). Earlier this season Kevin Garnett had 33 rebounds in his first two games for the Celtics. But before that, no player had as many as 32 rebounds in his first two games with a team since Danny Fortson had 35 in his first two games for the Warriors, at the start of the 2000-01 season.
• See more Elias facts that figure