Noah Graham/NBAE via Getty Images
Change Comes Quickly In The Dramatic West

The news that Kobe Bryant was diagnosed with a torn ligament in his right pinkie finger Thursday has the potential to change the face of the West race. The Lakers' star decided not to undergo surgery that could sideline him for six weeks, and play through the pain.
Timing is everything. If this is October or November, Bryant could take those six weeks off to heal. But at this point, knowing the competitor and warrior that he is, I can see why he's going to try to play through this. His team needs him in the West chase. First off, I love the
Pau Gasol
move and what the Lakers have done this season, hovering near the top of the West standings, aided by underappreciated players like
Trevor Ariza
.
Andrew Bynum
should be coming back, too. But injured pinkie or not, the
San Antonio Spurs
remain the favorite, and Manu Ginobili's big game Wednesday (46 points, eight 3-pointes) reminded us how tough it would be to beat the Spurs in a seven-game series. The challengers are doing everything they can to make that happen. The West race is heating up with deals. All these trades make me believe the games we have ahead are going to be great theater. I'm being paid to watch, but the kind of games we're going to see in the playoffs makes me want to buy some tickets. Come to the West,
Jason Kidd
! The West is waiting for you. I see the proposed big deal with New Jersey that is currently held up by
Devean George
should get done eventually. (My first question when I heard of the deal: Who's George's agent?) If for some reason a move wasn't made, and at this point it's about the worst-kept secret in the game, then it's like being at a pool party with all your family and friends in the water and you're the only one not going in. Dallas still hasn't jumped in to the dealing, but its toes are right over the edge. You can't help but like a Dallas team with Kidd. The Mavs already have been through the ups and downs of playoff basketball, getting to the Finals against the Heat two years ago before last year's disappointing first-round exit. While some question Kidd's shooting accuracy (36.6 percent), I think he's going to find a way to get it done in Dallas. That's the great thing about basketball -- players have strengths and weaknesses, but it is how all the parts of the team come together that is the big thing. Still, the team that I see as emerging as the main challenger in this new-look West is the Suns. What also has emerged is this: I didn't know Shaquille O'Neal had so many haters. We'll get to see Shaq after the All-Star break. You can't tell me that Phoenix is not one loaded team. If this was fantasy all-star ball, this team would win it. All the deals started with Utah solidifying its lineup by adding
Kyle Korver
. Denver could be in the market for a trade, too. Who knows what other deals we might see get done by the trade deadline?
Mike Miller
and
Ron Artest
are said to be out there. Where there's smoke, there's fire. All these moves are fun. It's a great time to be a fan of the game.
ESPN analyst Jalen Rose is a regular contributor to the Daily Dime. For more about Jalen, visit his Web site: JalenRose.com.
Dimes Past:
February 1
|
2-3
|
4
|
5
|
6
|
7
|
8
|
9-10
|
11
|
12
|
13
|
14
Dan (Cleveland, OH): Chad, all Cavs fans want Ferry to make a splash before the deadline, but given the current roster and lack of picks, IF they make a move will it be for a Flip Murray type player from seasons past?
Chad Ford:
I know
LeBron James
is frustrated. But his team just doesn't have the assets (expiring contracts, young talent, multiple picks) to make an attractive offer.
Danny Ferry
put all of his eggs in one basket his first summer in Cleveland. He decided
Larry Hughes
, a re-sign
Zydrunas Ilgauskas
,
Damon Jones
and
Donyell Marshall
were going to be good enough. They haven't been but their contracts are now difficult if not impossible to move. So LeBron can pine all he wants, but his GM has pretty much painted the team into the corner for another year or two.
Sujei(PR):
The next one to go have got to be
Vince Carter
, why keep him? Where can he end up, don't tell me in the West?
Chad Ford:
The Nets would like to move Vince Carter as well. We all know that. I think they'd be willing to do a trade for
Jermaine O'Neal
if they can get assurances he's healthy. The problem is that I can't see Indiana biting on this. Why would they want Carter? I think NJ knows this and is trying to find a third team willing to take Carter. It won't be easy. He has 3 years, $52 million left on his contract. What was NJ thinking when they signed him to that deal this summer?
• See the full Chad Ford chat
Talking About Kobe's Injury

Kobe Bryant's injured pinkie sparked ESPN Conversation:
To compare Kobe and LeBron is ridiculous. Kobe understands that his team is playing in a very tight conference. He needs to be there every night in order for his team to win. It's not a meaningless risk, it's a very good risk. If he would go down for 6 weeks, that could potentially put the Lakers out of the playoffs. Obviously LeBron did not understand that. That's what separates the champions from the pretenders. -- hectorartm
Charles Bronson would have played with a dislocated neck, two gunshot wounds to the abdomen and a bad case of the stomach flu. But then again, he was a vigilante. Kobe is the Charles Bronson of sports...with better hair. -- BachmanTurnerOverweight

The Knicks didn't block a single shot in Wednesday's loss at Boston. It was the ninth time this season that the Knicks put up a goose egg in the blocked-shots column; no other NBA team has more than two such games. With an average of only 2.35 per game, New York is on pace to block the fewest shots for any team over the course of a full season since the league started tracking that category in 1973-74.
• See more Elias facts that figure

Thursday's Best

Boris Diaw, Suns forward
-- The kind of game that was more 2006 vintage Diaw. Makes 9-of-12 shots, good for 19 points along with eight boards and three blocks in a 109-97 win over the Mavs.
---

Thursday's Worst

The Dallas bench:
The shorthanded Mavs reserves scored 14 points on 4-for-18 shooting. Jose Juan Barea, Brandon Bass, Nick Fazekas and DeSagana Diop could all use a little Jason Kidd around now.
---
Quote of the Night

"My current thinking is to give my finger some treatment and rest for a few days and hope I can still continue to compete at a high level after that rest. I would prefer to delay any surgical procedure until after our Lakers season, and this summer's Olympic Games. "
-- Lakers guard Kobe Bryant,
on his injured right pinkie.
• See Thursday's daily leaders
-- Andrew Ayres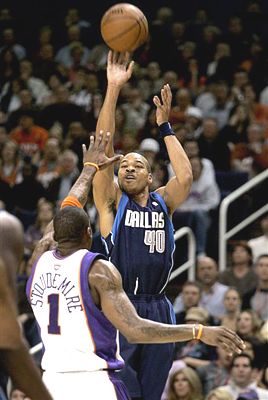 AP Photo/Matt York
Still a Mav, Devean George shoots over Suns forward Amare Stoudemire during Thursday's game. George played 43 minutes, scoring seven points with six rebounds.

Joe Dumars talks with Chad Ford about the state of the Pistons and some of the trades going down in the league right now.
Joe's Garage