Joe Murphy/NBAE via Getty Images
Cavs Bet Big Ben Is Still A Stopper


CLEVELAND -- More than four and a half hours after the trade deadline came and went, a tired but smiling Danny Ferry was asked just what LeBron James thought about Ferry's most active day ever as the Cavaliers' general manager.
What did James think about shipping out nearly half the locker room? Did he like the addition of Ben Wallace, formerly a fierce foe with the Detroit Pistons?
Did this ease the sting of not landing Jason Kidd last week?
Ferry blinked and looked over at Cavs coach Mike Brown and asked if he'd talked to James.
"Nope," came the response. Ferry hadn't either, though just contacting the players he was trading and the players he was trading for took much of the early evening following the three-team, 11-player deal. He'd managed only to leave James a voicemail.
Because he is who he is and because he was so vocal about the need for the Cavs to do something to upgrade their roster, gauging James' reaction to the addition of four new teammates surely seemed important. But with so many pressing issues and formalities, including a marathon trade conference call with the league that didn't even start until after 6 p.m., getting James' reaction was pushed to the back burner.
It's not that it isn't relevant, it's that the Cavs didn't do this trade just to make James happy. Even though this was a big deal, one of the biggest in NBA history by volume, it wasn't the Cavs' long-awaited move to find James an offensive running mate. This was to get some new nuts and bolts.
The Cavs decided to take a gamble on Wallace -- and if you've seen him play with the Bulls this season, statistically his worst in seven seasons, you know it is a gamble -- because they were worried about their defense.
And Wallace is indeed the centerpiece of the trade, though the Cavs got a great spot-up shooter to catch James' passes out of double-teams in Wally Szczerbiak, a quality veteran big man in Joe Smith and a guard Ferry has coveted for years, the hard-nosed Delonte West.
The Cavs have been winning at a decent clip, going 16-8 since Christmas, but they've been doing it almost solely on the back of James, who is by far having his best season as a pro. They've been living on his heroics and the 19 fourth quarter come-from-behind wins he's led.
But the team's defense, the Cavs' calling card after James' array of talents, has been slipping all season.
After leading all teams in fewest points allowed and defensive field goal percentage in the playoffs last year, the Cavs have been just average on that end of the floor this season. They are giving up nearly seven more points a game compared to last season and rank a lowly 23rd in field goal defense, which they know is no way to win in the postseason.
They also know what awaits them, a dynamic Celtics' offense that lives off Kevin Garnett setting up his team from the post and the Pistons' core of active big men from Rasheed Wallace to Jason Maxiell.
So maybe they couldn't get Kidd or Mike Bibby to help their offense. Instead they made a risky move to uplift their defense.
It is true that Larry Hughes, shipped to Chicago, was underachieving in many ways in Cleveland, but he was a solid perimeter defender. Ira Newble, now off to Seattle, couldn't come close to his former Miami University teammate Szczerbiak shooting the ball, but Newble is twice the defender.
Nonetheless, the Cavs feel if they can motivate Wallace to put forth the effort he did with the Pistons as well as on many nights last season, they will be way ahead. Behind the scenes they admit his skills are diminishing, but after spending quite a bit of time watching him in recent weeks, they are also convinced he's not playing up to his ability.
The Cavs hope he'll bring them the edge they have been missing, the tough guy on the back line who doesn't want to just take a charge like Anderson Varejao or alter a shot like Zydrunas Ilgauskas but is an enforcer and a basket protector.
If it works, and the Cavs can challenge again to win the Eastern Conference with the combination of tight defense and a difference-making star, Thursday may have been a key day in franchise history. If it doesn't, a year from now the Cavs, who will still have nearly $30 million in expiring contracts on their books next season, may be looking for another shakeup.
Dimes Past: Feb. 1 | 2-3 | 4 | 5 | 6 | 7 | 8 | 9-10 | 11 | 12 | 13 | 14 | 15 | 20 | 21
Thursday's three-team, 11-player swap was the fourth trade in NBA history to include 10 or more players. Incidentally, Tuesday's eight-player Dallas-New Jersey trade, featuring Jason Kidd, is tied for the ninth-biggest trade of all time.
The four biggest trades ever:
13 PLAYERS
Aug. 2, 2005
MIAMI acquires G Jason Williams, F James Posey and G Andre Emmett from the MEMPHIS GRIZZLIES, F Antoine Walker from the BOSTON CELTICS and the draft rights to Roberto Duenas from the NEW ORLEANS HORNETS in a five-team trade that sent F Eddie Jones from Miami and G Raul Lopez from UTAH to Memphis; New Orleans acquires G Kirk Snyder from Utah and F Rasual Butler from Miami; C Greg Ostertag was sent to Utah from Memphis; Boston Celtics acquired C Curtis Borchardt from Utah, and F Qyntel Woods, the draft rights to Albert Miralles, two second-round draft picks (2006 and either 2007 or 2008), and cash from Miami.
12 PLAYERS
September 20, 2000
NEW YORK acquires F Glen Rice, C Travis Knight and a first-round pick from the LOS ANGELES LAKERS and C Vladimir Stepania, F Lazaro Borrell, G Vernon Maxwell, a first-round pick and two second round picks from SEATTLE in a four-team trade that sent C Patrick Ewing to Seattle; Los Angeles Lakers acquired F Horace Grant and F Chuck Person, C Greg Foster and G Emanual Davis from Seattle; PHOENIX acquired C Chris Dudley and a first-round pick from New York for C Luc Longley.
11 PLAYERS
Aug. 27, 1999
HOUSTON traded G Michael Dickerson, F/C Othella Harrington, G Brent Price, F/C Antoine Carr and a future first round draft pick to VANCOUVER as part of a three-way deal in which the Rockets received draft rights to G Steve Francis and F Tony Massenburg from Grizzlies and F Don MacLean and future first round draft choice from ORLANDO, and the Magic received F Michael Smith, G/F Rodrick Rhodes, G Lee Mayberry and F Makhtar Ndiaye from Grizzlies.
11 PLAYERS
Feb. 21, 2008
CLEVELAND acquires Ben Wallace, Joe Smith and a second-round pick from CHICAGO and Wally Szczerbiak, Delonte West from SEATTLE; CHICAGO acquires Larry Hughes, Drew Gooden, Cedric Simmons, Shannon Brown from CLEVELAND; SEATTLE acquires Ira Newble, Donyell Marshall from CLEVELAND and Adrian Griffin from CHICAGO
• Compiled by ESPN researcher Peter Newmann


A few odds and ends heading into Friday's Celtics-Suns matchup (ESPN/ESPN360.com, 10:30 p.m. ET):
• The Suns have won four straight and nine of their last 11 games against the Celtics.
• The Celtics have lost two straight games for the only the second time this season.
• The Celtics have lost consecutive road games for the first time this season.
• These two teams have dominated the opposite conference this season. Phoenix is 21-2 vs. the Eastern Conference and Boston is 16-2 against the Western conference.

THURSDAY'S BEST

Manu Ginobili, Spurs guard:
The way he's played lately, maybe we should just call this the Manu Award. Ho-hum, another 44 points for Ginobili ... and a game-winning jumper.
HONORABLE MENTION

Tony Parker, Spurs guard:
He didn't do much on the court, but the return of the Finals MVP to San Antonio's lineup is a reminder that the champs are gearing up again for a title run.
---

THURSDAY'S WORST

Chris Wilcox, Sonics forward:
Maybe he's bummed about not being traded. How else to explain a two-point, two-rebound night from a horse like Wilcox?
---
QUOTE OF THE NIGHT

"I'm used to being under the bus by myself, so that doesn't bother me."
-- Ben Wallace,
addressing the heavy criticism he heard during his disappointing tenure as a Chicago Bull.
• See Thursday's leaders
-- Royce Webb
Friday, February 22: Daily Dime TV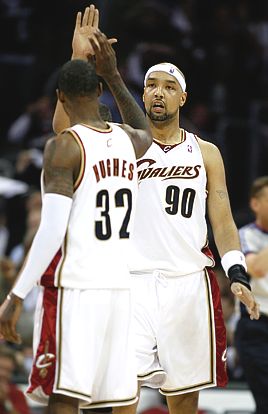 Gregory Shamus/Getty Images
AND NOW!!!! .... YOUR CHICAGO BULLS!!!!
Chicago fans never imagined they'd hope to see Larry-Drew high-fives this season.
By beating the Heat on Thursday, the Rockets made history, winning their 10th straight game while sending Miami to its 10th straight loss.
There had been only one previous matchup of that type (a team with nine straight wins facing a team with nine straight losses) in the entire history of the NBA, when the New York Knicks snapped their nine-game losing streak with a win over the Cleveland Cavaliers (96-94 at Madison Square Garden on April 5, 2006).
Related note: The all-time record of teams on a winning streak of nine or more games against teams on a losing streak of nine or more games is 6-3 (3-0 at home, 3-3 on the road).
• Elias Sports Bureau