Photo by Andrew D. Bernstein/NBAE/Getty Images
Bryant Wins Late-Game Matchup Against Allen

LOS ANGELES -- Kobe Bryant was just a couple steps inside the midcourt line, dribbling the ball as he surveyed the scene in front of him, waiting to see whether the Boston Celtics were going to send a second defender his way.
Opposite Bryant, standing just a few steps off him, was Ray Allen, first looking over his left shoulder, then his right, trying to gauge whether another member of the Los Angeles Lakers was going to come out and set a pick.
After a few moments, it became clear: Nobody was coming to help either of them, and one of the key possessions of the NBA Finals was going to come down to a one-on-one matchup between the two superstars who had expressed disdain not all that long ago at simply being mentioned in the same sentence together.
And that's when Kobe took him.
Bryant drove, stutter stepped, changed direction and faked Allen off his feet, leaning underneath him and then rising upward as he moved forward for a leaning 12-footer. The touch on the shot and the bounce off the rim were both soft, and the ball dropped through to turn a four-point game into a six-point game, making it 87-81 with just 38 seconds left.
Ballgame.
And now it's a series.
Say what you want about the way the free throw disparity reversed itself, the way Pau Gasol came up big on the offensive glass down the stretch, how Paul Pierce and Kevin Garnett, but especially Pierce, struggled with their shots and how everyone in the arena was buzzing beforehand about a game that happened six years ago that disgraced former referee Tim Donaghy now alleges was more or less fixed.
But what it all came down to in the Lakers 87-81 victory Tuesday night, a win that reduced Los Angeles' deficit to 2-1, was a question of how the Celtics would choose to defend Bryant on the game's key possession, and how Bryant would respond when it became clear that Boston was daring him to beat them one-on-one.
Bryant went 6-for-8 in the game when guarded by Allen, 3-for-4 vs. James Posey and 3-for-7 against others, not including a 3-pointer on which no defender was near him. He finished with 36 points on 12-for-20 shooting, keeping himself from dropping 40 only because he missed seven of 18 free throw attempts.
Sasha Vujacic added 20 points, eight of which came in the final 12 minutes -- and three of which came after Bryant was confronted with a different defensive look, an aggressive double-team near midcourt as the clock ticked inside two minutes.
When Bryant saw the double-team coming, he fired a quick pass to Lamar Odom, who turned and found Vujacic wide open in the corner in front of the Celtics' bench. Vujacic nailed it, putting the Lakers ahead 81-76 with 1:53 remaining.
"Those are the shots I live for, honestly," said Vujacic, who was pilloried after Game 2 along with Vladimir Radmanovic for not getting the ball to Bryant for a key possession late in the game after the Lakers had cut a 24-point deficit down to two.
This time, he was redeemed. And that little extra respect he earned was likely what made the Celtics attempt to defend Bryant one-on-one three possessions later.
"That's what happens when we have a lot of people and shooters on the team and our spacing is great, so Kobe has an opportunity and can do whatever he wants. He can go to the basket, and if they're going to double-team him, he's going to find open teammates. That's why he's the MVP this year, and that's why he was playing like the MVP, so it was good," Vujacic said.
Still, the MVP is a regular season award, and the playoffs are a whole different matter.
So when Bryant stood out there near midcourt and realized he was going to be left in single coverage against Allen, it wasn't an MVP instinct that kicked in. It was a killer instinct.
"I didn't want to rush. I didn't want to get into a trap situation where they could crowd me," Bryant said. "Make sure I had proper spacing and get to a spot on the floor where I could feel comfortable to elevate and shoot -- or pump fake and step into it and shoot."
He did the latter, starting his jump forward from the free-throw line but not releasing the shot until he was about 12 feet away -- what could best be described as an in-between distance for a player accustomed to shooting game-winners from at least a couple feet farther out.
"Even though it's a leaner, it's still a good look. The important thing is just to put enough arc on the ball where it can get over the front of the rim, and you make sure you touch it up nice and soft so you can get a little bounce. Tonight it fell in for me."
Indeed it did, and now we're one more Lakers win away from making it a tied series before the weekend arrives.
And if, by some strange coincidence, Game 4 comes down to a similar situation, it'll be interesting to see whether Bryant and Allen or Bryant and some other defender are left alone to settle things one-on-one. If they are, you gotta like Kobe's chances of turning that one-on-one showdown into a 2-2 series.
Chris Sheridan covers the NBA for ESPN Insider. To e-mail Chris, click here.
Donaghy's Allegations Put Damper On Game 3
By J.A. Adande | ESPN.com
LOS ANGELES -- If this series existed in a vacuum, with no news conferences and no headline-making legal documents, we could listen to Boston coach Doc Rivers' summary of the Lakers' victory in Game 3 Tuesday and just move on.
"I thought they were the more aggressive team all night," Rivers said. "To me that was the reason."
Because this game came after a full day of focusing on Boston's 38-10 advantage in free-throw attempts in Game 2, and on the same day the unkillable Tim Donaghy scandal delivered another blast that included an allegation of a playoff game fixed by officials, it's not as simple as Lakers 87, Celtics 81.
Not even Rivers could resist throwing another log into the ugly storyline burning on the side of this series. When Phil Jackson's name was included in a question, Rivers sarcastically said, "I'm just surprised he didn't whine about fouls tonight."
No, Jackson didn't have a word to say about the officials after this one. No reason to, after his Lakers shot 22 free throws to Boston's seven in the first half, and 34 to 24 overall. Maybe it's because after all that yearning for trips to the free-throw line the Lakers didn't do much once they got there, missing 13 of their 34 attempts (62 percent).
Still, Bryant couldn't resist one last reference to Game 2 while discussing his own dismal 11-for-18 night at the line.
"At least I got there," he said.
He got there because he spent the bulk of his time in the paint this game instead of settling for the jump shot. As always, the Celtics committed multiple defenders to him. Only this time he was able to find his way to the gaps in the defense, taking half of his 20 shots from inside the paint, in addition to drawing all of those fouls.
"I just went," Bryant said. "Took it to them. I just went and just had the confidence that once I get in there I'll be able to make the right play and hopefully some of the whistles will go our way a little bit tonight, get to the free-throw line. If they collapse, I hit my shooters.
To read the entire column, click here.
Celtics Didn't Have Scheme To Stop Vujacic
By John Hollinger | ESPN.com
LOS ANGELES -- The Lakers' broadcasters call him The Machine. Phil Jackson called him "a rock head."
By any name, he was the key. Sasha Vujacic made 7-of-10 from the field, including 3-of-5 on 3-pointers, and scored 20 points off the bench in the Lakers' 87-81 Game 3 victory. It couldn't have come at a better time, as he provided much-needed scoring support for Kobe Bryant on a night when no other Laker reached double figures.
Never lacking for confidence, Vujacic was one of the few Lakers who seemed unfazed by Boston's defensive schemes, letting his jumper rip whenever he got space.
"The Machine played like a machine," Bryant said. "He's gotten better as the season has gone on, not just being a spot-up shooter but being able to put the ball on the floor one or two bounces and taking a step back. He's really developed into a well-rounded scorer."
"I thought Vujacic was the key to the game," Celtics coach Doc Rivers said. "He was aggressive, and he deserved what he got."
Aggressive indeed. Forget the soft European stereotype -- this Slovenian is one of the league's toughest players. And that's what kept him in the Lakers' plans even as he struggled with his shot in his first three pro seasons.
"He's a little bit of a rock head," Lakers coach Phil Jackson said. "That's what we call him. He believes in himself very sincerely that he's going to make the next one, and you have to be that way if you're going to have the guts to go out there and do it."
That produces some questionable shots at times, but it also gives him the mettle to pull the trigger freely in tight spots -- as he did in crunch time Tuesday night. Vujacic made what was arguably the key shot of the game, hitting a 3-pointer from the left corner with 1:53 left that gave the Lakers an 81-76 lead.
"They double-teamed Kobe, Lamar [Odom] got the ball and he found me in the corner and I was wide open," Vujacic said. "If they're going to double-team [Kobe], he's going to find open teammates."
To read the full column, click here.
By Maurice Brooks
ESPN.com

TUESDAY'S BEST
Sasha Vujacic, Lakers guard
: "The Machine" lived up to his nickname. On a night where every Los Angeles starter not named Kobe stunk up the STAPLES Center, he came off the bench and bailed them out with his long-range shooting, scoring 20 points (7-for-10).
---

TUESDAY'S WORST
Paul Pierce, Celtics forward
: This wasn't exactly the homecoming the Celtics' captain had in mind. It is hard to explain his 2-for-14, 6-point performance. Throw in the fact that he finished with five fouls and you have an all-around ugly game.
---
QUOTE OF THE NIGHT

"Kobe was fantastic but I thought Vujacic was the key to the game. I said before we are going to have to win a game when Kobe Bryant plays well. We know that. But when that happens, we have to shut off the other avenues."
-- Celtics coach Doc Rivers on the biggest reason the Lakers won Game 3
By Henry Abbott
ESPN.com
LOS ANGELES -- The story of the Celtics all season has been the big three. But out of Ray Allen, Paul Pierce, and Kevin Garnett, only Allen -- who had 25 points on just 13 shots -- was big tonight.
Paul Pierce and Kevin Garnett? They combined to make a meager eight out of a generous 35 shots in the game.
If you're a Celtics fan, this looks like a great way to lose -- falling short by just six with your stars shooting a very low percentage. You assume that if you were to play the same way in the next game, those stars would hit at least four more of those shots, and you'd win the game without having to do anything differently.
The only worry is if there is some special reason that those players shot so poorly. And the way the Doc Rivers and Phil Jackson tell it, there just might be.
The special reason is Kobe Bryant.
The Lakers started the game with a new twist: Bryant guarded Rajon Rondo, who is not known as a shooter. And they finished the game with Bryant keeping tabs on Pierce.
In the early going, Bryant left Rondo time and again, roaming the floor freely, taking up space, and taking away options from players like Garnett and Pierce.
Rivers has been insistent that the Celtics are best when Garnett spends a lot of time catching the ball in the post. But tonight, time and again, he was shooting from the outside.
"I think for the most part shooting-wise, I had a pretty awful game," Garnett said. "But that's the great thing about this league. We have some more games to play, and I'm sure I'll get better."
"I just thought they were more aggressive," Rivers said. "Kobe was really live off of Rondo -- something they did in the last game, as well. But he was more aggressive at it."
Then, down the stretch, Bryant stopped roaming and started guarding local hero and recent Laker-killer Pierce.
"He's a tough cover," Bryant said. "He's a bad boy. He's extremely versatile. Go left, go right, shoot it. He's a very tough cover. As tough as you're going to have in this league. I just tried to accept the challenge and tried to make it as tough as I can for him."
It was tough enough.
"Putting Kobe on Pierce," Jackson said, "was the difference in tonight's game. It was more difficult for him to work to get free. He still had, I thought, some instrumental plays down the stretch. But it made the difference for us tonight."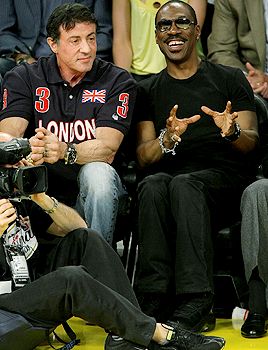 Noel Vasquez/Getty Images/NBAE
An NBA Finals game played in the city of stars brought out the celebrities Tuesday, including actors Sylvester Stallone and Eddie Murphy.
Struggling To Score Points
Elias Sports Bureau
The Lakers beat the Celtics 87-81 in Game 3 of the NBA Finals. The 168 combined points is the fewest ever scored in the 64 Finals games between these two teams. The previous low was 177 in Game 4 in 1969 (Boston won 89-88).
Lakers Change Their Attack
By Dr. Jack Ramsay
ESPN Radio
LOS ANGELES --Phil Jackson changed his game plan for Game 3 and it paid big dividends for the Lakers. The triangle offense, in its basic form, generates mostly jump shots and post ups. In Games 1 and 2, the Lakers' scoring was limited to Pau Gasol and Kobe Bryant at the post, but most of the Lakers' shots were coming from the perimeter.
In Game 3, the Lakers were in attack mode ... Bryant in particular. When I asked Kobe after Game 1, if he needed to take the ball to the basket more, he said "They won't let me get there. I'm going to live at the post." But that was clearly not the answer for L.A. The better answer was Kobe taking it to the basket against the Celtics' defense, scoring it, getting to the line or finding open teammates.
The Lakers got to the free throw line 34 times after only 10 opportunities in Game 2. Now all they have to do is make more than 21 of those free throws ... Bryant and Gasol missed 10 between them. But the Lakers now know that they can get to the basket against the Celtics and that will get them to the line, which gives them a better chance to win.
Legendary coach and Hall of Famer Dr. Jack Ramsay serves as lead game analyst for the NBA on ESPN Radio.