Ned Dishman/NBAE via Getty Images
Gasol Steps Back Into A Pressure Point

WASHINGTON -- When Pau Gasol got around to speaking English from the podium Sunday, the topic turned to the pressure he is going to be under in Los Angeles.
The expectations that have been thrust upon him, it was pointed out, are 100 times greater than anything he went through in Memphis, and the scrutiny he will be under will rival what he endures back home in Spain.
"I think it's a great type of pressure -- the pressure to win and being one of the favorites is what you want, and it's something I've been missing since I've been in the NBA. I love that I have that with my national team every summer, I had that before I was in the NBA, with Barcelona [of the Spanish League], and that is what I'll have from now on."
So, he loves pressure, eh?
Wasn't there any pressure in any of those 12 playoff games he played for Memphis? Gasol was 0-12 in the postseason with the Grizzlies.
And what about the pressure cooker that was Madrid back in mid-September, a night when a sizeable portion of the city was barricaded off in preparation for a huge midnight parade and party following the final game of EuroBasket 2007?
What happened then? Only one of the most unlikely upsets in recent international basketball history, made possible by Gasol's late misses.
It didn't make a lot of waves here in the States, but Spain, playing on its home soil against Russia, a huge underdog, lost by one point when Gasol's turnaround 20-footer rimmed out at the buzzer to cap a dreadful fourth quarter in which he also missed five of eight free throws. Prior to his final miss, Gasol had the ball stripped from him with 25 seconds left by Russia's J.R. Holden (almost a carbon copy of Michael Jordan sneaking up behind Karl Malone and swiping the ball away right before making his championship-winning jumper over Bryon Russell in the '98 NBA finals), who scored off the turnover for the winning points.
When the folks en Espaņa looked for someone to blame that night, most of them placed it squarely on the shoulders of Gasol, wryly noting that it was a good thing Gasol's foot was in a cast a year earlier (he had broken his foot against Argentina in the semifinals) when Spain defeated Greece in the gold-medal game at the World Championship in Japan.
More than a dozen members of the Spanish media were credentialed Sunday at the MCI Center as the Lakers rode Kobe Bryant's 18-point first quarter to an easy 103-91 victory over the Wizards. Gasol is expected to make his Lakers debut Tuesday night at New Jersey.
Prior to the game, Gasol left Wizards and Lakers officials red-faced by responding en espaņol to the first seven questions he was asked -- all of them were posed in Spanish, too, and with no English translation provided, the rest of the room, heavy on monolinguals, appeared half dumbfounded and half bemused.
In a way, it seemed as though the writers from Spain were jumping all over Gasol before the English speakers could get in a word, and therein is a parallel to be drawn. There is a lot of savior talk being thrown Gasol's way, but folks in Los Angeles might be well served to keep an ear open to what the people in Memphis and Madrid are saying, too. Grizzlies owner Michael Heisley said one of the reasons he decided to trade Gasol, who was being booed in Memphis, was that a local fan told him he would never buy another Grizzlies ticket as long as Gasol was the face of the franchise.
"He seemed to perform when the game was on the line whenever we played against them. The big matchups, [Kevin] Garnett and [Tim] Duncan and those guys, he goes right at them and he's had a lot of success against them. So I don't worry about that too much," Bryant said when Gasol's comment about loving pressure was relayed to him.
Gasol and Bryant will have 36 regular-season games to acclimate themselves to each other before the playoffs arrive.
That's when we will see how Gasol handles the pressure, and if he really, seriously, genuinely loves it, he truly will love L.A.
If, however, he folds under it, the scrutiny he gets in Spain and got in Memphis will be nada compared to what he will get in Lakerland.
After all, Gasol ultimately is going to be a key hombre in determining whether Bryant wants to remain a Laker for life.
And that, mis amigos, is pressure.
Chris Sheridan covers the NBA for ESPN Insider. To e-mail Chris, click here.
Dimes Past:
January 25
|
26-27
|
28
|
29
|
30
|
31
|
February 1
|
2-3

mad guy (oakland): Are you kidding me? Brandon Roy and David West over Baron Davis? Man, GSW never gets any love when it comes to the All-Star Game. Baron's the only man in the league averaging over 20 points, 8 assists and 4 rebounds and 2 steals and his team is winning! I think the NBA needs to rethink how they pick the reserves.
J.A. Adande:
Brandon Roy had to be on the All-Star team. I think Baron and
Stephen Jackson
canceled each other out a little bit. As great as Baron has been, it was Jackson's return that catapulted the team back to playoff contention … but do you really want to reward a guy who missed the first 7 games of the season because he fired a gun outside a strip club a couple of years ago?
Bob (Diamond Bar, CA): So who's a scarier team now? Booz/Williams/A.K. and the Jazz or Kobe/Gasol/injured Bynum and the Lakers?
J.A. Adande: Assuming Bynum comes back full strength it's definitely the Lakers in this case. But why limit yourself so low? The Lakers now have to be thinking in terms of Spurs, Mavericks and Suns as their competition. They've shown they can beat the Suns with Bynum. The Spurs have looked wobbly, and the Lakers gave them a good run in San Antonio without Bynum a week ago. I can't wait to see how they look against the Mavs with the new lineup.
• See the full J.A. Adande chat
Talking About The Gasol Deal

Some reactions in the ESPN Conversation to J.A. Adande's story on what the Pau Gasol deal means to the Los Angeles Lakers.
"I hate the Lakers, mostly because of their fans. But I applaud the organization because most orgs would use rebuilding as a pathetic excuse for many many years. One bad year post-Shaq, then two first-round exits. Most teams would have been patting themselves on the back for that.
"Not the Lakers. I wish my teams had the winning urgency that this franchise does. Lastly, forget Jason Kidd. He is a free bird. The triangle would only cage him, and since he is an awful shooter, his effectiveness would be reduced." -- s5penguin
"Congrats to Jerry Buss. The karmic debt he was owed when he sent Shaquille O'Neal to Miami has finally been paid back to him. Pau Gasol is an indirect result of that trade because he was acquired with Kwame Brown who was acquired for Caron Butler who was part of the Shaquille O'Neal trade. "I believe that Bynum was drafted with the pick the Lakers received in that trade as well meaning that Lamar Odom, Andrew Bynum and Gasol were the net results of giving up O'Neal." -- tonedesign

Sunday's Best

Rasheed Wallace, Pistons forward:
He had 21 points, nine rebounds and four blocks in the 90-67 rout of the Mavs. "When Rasheed is ready, motivated and focused, he can dominate anyone he plays," Detroit coach Flip Saunders said.
---

Sunday's Worst

Dirk Nowitzki, Mavs forward:
First, the good news: Dirk made all nine of his free throws and pulled down 10 rebounds. But he missed 15 of 18 shots, numbers unworthy of the reigning MVP.
---
Quote of the Night

"I'm letting [Lakers general manager] Mitch [Kupchak] handle that stuff. I gave up playing GM in the summer."
-- Lakers guard Kobe Bryant
• See Sunday's daily leaders
-- Andrew Ayres

By John Hollinger
ESPN.com

Pau Gasol is vastly underrated because he's played in a low-profile market and his team hasn't been any good the past two years. He's been one of the most consistently productive power forwards in basketball for the past half-decade, with a PER above 20 for six straight seasons, and at 27, he should have several good years left.
Yes, he's a little soft. He's also one of the quickest 7-footers in the league and can shoot, handle and pass. That last item is important -- he'll share the ball and play nice with Kobe Bryant, and he'll be very effective from the high post in the triangle while Andrew Bynum takes the low block.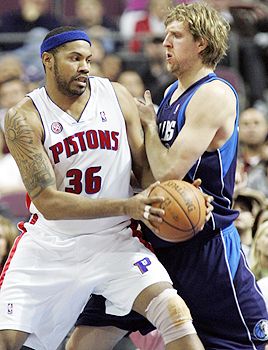 Duane Burleson/AP Photo
Rasheed Wallace and Dirk Nowitzki battled in Detroit. Sheed shouted, "He can't guard me," toward the Dallas bench after scoring on a fadeaway over Dirk late in the third quarter as Detroit pulled away.

By Elias Sports Bureau
The Nuggets trailed the Bobcats 87-77 late in the third quarter of Saturday's game at Denver, but the Nuggets scored the next 15 points (tying their longest streak of unanswered points this season) and wound up the victors 117-101. It was the ninth game Denver won this season after overcoming a double-digit deficit, the second-highest total for any NBA team. (The Warriors lead the league in that department with 11 such victories.)