Noah Graham/Getty Images
Dirk's (And Stein Line's) MVP Ballot

The NBA's reigning Most Valuable Player still isn't prepared to join in the guessing about when he'll be ready to play again, although we continue to cling to our prediction here in Dimedom that the famously fast healer will be back in less than the originally forecasted two weeks.
In the interim, Dirk Nowitzki did consent to take a brief pause from his around-the-clock ankle rehab and the Dallas Mavericks' increasingly perilous standing in the Western Conference playoff race to help us with our MVP ballot, seizing an opportunity to change the subject from those gloomy pursuits when we called.
The official ballot, which is due into the league office in exactly 20 days, requires voters to rank their selections from 1-to-5. The following choices reflect Nowitzki's top-5 order entering the season's final 10-ish games, as well as mine.

Nowitzki's No. 1:
Kobe Bryant
Weekend Dime ranking: No. 1
Kobe's standout stats: 28.3 ppg, 6.2 rpg, 5.3 apg, 1.88 spg, 46.0 FG%
Dirk's comment: "He's the best player in the game and he's never won it before. He's had his injuries, his team [has] had injuries and they're still right up there in the West. They just beat us without [Pau] Gasol and [Andrew] Bynum. I think this is his time."
WD assessment: Best Player In The Game status is not enough for us. Ditto for Best Player To Never Win The MVP Award status. Bryant answers to both, but you could just name him MVP on opening night if those were the primary criteria.
The MVP has to have the best overall season to get our vote.
On this scorecard? With about 10 games to go, Kobe qualifies there, too.
As stated in this cyberspace a few weeks back, Bryant is basically doing everything we've been imploring him to do since Shaquille O'Neal left the Lakers. Dock him points, if you wish, for all the drama Bryant created from late May through Halloween, but then you have to recognize his unimpeachable focus, leadership and ferocity from the moment Lakers management told him on the eve of the season opener against Houston that he wasn't going to be traded.
Working in the conference of the century and possibly carrying the league's greatest expectations -- all while drawing more attention from opposing defenses than just about anyone going -- Bryant is playing the best team ball of his life while playing at an MVP level individually. At both ends.
Just last week, L.A. won in Dallas and Utah without Andrew Bynum and Pau Gasol, amid claims by Bryant's detractors that he wouldn't even be up here in the MVP reckoning if Memphis hadn't dropped Gasol in the Lakers' laps on Feb. 1. Bryant has to get some credit for Bynum's development as well as Pau's fast transition to a new team because his rivals in the MVP race are all getting the same kudos for the impact they have on their teammates. He's simply winning like he hasn't won since Shaq was a Laker, which is what separates this Kobe from the MVP outsider of the past three seasons.
---

Nowitzki's No. 2: Chris Paul
Weekend Dime ranking: No. 2
CP3's standout stats: 21.6 ppg, 11.4 apg, 3.9 rpg, 2.71 spg, 49.4 FG%, 37.3 3PT%
Dirk's comment: "He's a beast. I don't care how big he is. He's a beast. That high screen-and-roll they run, you can't guard it. They've had an amazing season."
WD Assessment: If Bill Simmons and I agreed on anything during our all-day podcast earlier in the week (see Box 4), it's that Paul has to win this thing if the Hornets finish with the best overall record in the West.
Has to.
Even after all of the above slobbering over Kobe, how can you deny Paul if the Hornets -- New Orleans? -- win the most competitive conference race ever?
Let's face it: Paul has been the season's best point guard in a conference overflowing with great ones. Even if he doesn't become the first player in NBA history to average at least 20 points, 10 assists and three steals in one season, he's going to be the league's first 20-point, 10-assist guy since Tim Hardaway in 1992-93. He's also averaging a tidy 4.5 assists to every turnover -- not bad for someone who only has to make the play on every single possession -- and had powered New Orleans to a record of 5-1 in its games against Paul's three main MVP rivals (Lakers, Cavaliers and Celtics) entering Friday night's visit to Boston.
However …
If the Hornets don't win the West and the teams stay pretty close record-wise, I'm sticking with Kobe. Amazing as it is that the Hornets are even in the running for No. 1 in the West, given that they've yet to play a playoff game in the Paul Era, Bryant has the tougher job (at least to me) because of all the double- and triple-teams and junk defenses that he (and LeBron James) has to see, as well as those higher expectations. (No one ever said this job was easy, either.)
---

Nowitzki's No. 3:
LeBron James
Weekend Dime ranking: No. 4
LeBron's standout stats: 30.7 ppg, 8.1 rpg, 7.3 apg, 1.83 spg, 48.5 FG%
Nowitzki's comment: "When he puts his head down and goes to the basket, he's so strong that he does whatever he wants. And he's starting to take games over in the fourth quarter. He's the future of this league. He'll win plenty of MVPs. I wouldn't be too worried."
WD assessment: It must be some race if a guy basically averaging 31, 8 and 8 can't finish higher than third. (Or fourth.)
But that's the sort of race this is.
The Cavs have been playing short-handed all season thanks to contract issues early and injuries throughout. The big trade Cleveland swung at the trade-deadline buzzer likewise hasn't even lessened LeBron's load yet, with Ben Wallace hobbling and Wally Szczerbiak struggling to make the midseason transition.
The fact remains, though, that the Cavs are in a much easier conference yet are on pace to fall short of the 50 wins they've recorded in each of the past two seasons. Surely you haven't forgotten the oft-recited stat -- applied to LeBron and Kobe at various points over the past couple years -- which reminds us that Moses Malone stands as the last MVP from a team that failed to win 50 games ... all the way back in 1982-83.
It's true that Cleveland might be on a more impressive track than 46-36 had LeBron not missed five games from Nov. 30 through Dec. 8. But Kobe missing almost no time with a hand injury requiring surgery and thus more severe than LeBron's can't help James' case, even if the Cavs were simply taking advantage of the luxury they had in the easier East to play it safe and give their franchise player some bonus rest.
Team success has always been a major variable with us because the ultimate value in any individual's season is how much winning goes with it. Is it reasonable to expect Cleveland to have a better record in the East than its current mark of 23-19? Even accounting for all the issues mentioned above, I'd say so.
---

Nowitzki's No. 4:
Kevin Garnett
Weekend Dime ranking: No. 3
KG's standout stats: 19.0 ppg, 9.4 rpg, 3.5 apg, 1.44 spg, 1.26 bpg, 53.6 FG%
Nowitzki's comment: "I love what KG's doing. He plays the best all-around game."
WD assessment: I applaud KG for repeatedly saying recently that Paul Pierce is the Celtics' MVP.
But I liked it even better when I heard Pierce's response Wednesday, which pretty much echoed everything I've believed and spouted about KG all season.
Said PP: "The whole face of Celtics Nation turned around when the trade happened with this guy. Everybody talks about the MVP, and they talk about numbers, but this guy has changed the whole culture around here and I think that says a lot. The mentality, from a day-to-day aspect, everything is changed from a year ago."
Bingo.
Intensity-wise. Defensively. It all flows from No. 5. All the Celts have to do now is finish 5-6 to record the biggest single-season improvement in NBA history, besting the 36-win jump made by San Antonio in Tim Duncan's first season.
Dare I say they'll get those last five wins. And when they do, I simply won't be able to put Garnett any lower than No. 3.
Putting him that low, frankly, doesn't feel right, either.
---

Nowitzki's No. 5: Steve Nash
Weekend Dime ranking: Manu Ginobili is our No. 5
Nash's standout stats: 17.5 ppg, 11.2 apg, 3.4 rpg, 51.8 FG%, 48.2 3PT%
Nowitzki's comment: "There's always a case for Nashy."
Weekend Dime assessment: Pierce, Dwight Howard and Tracy McGrady all merit at least a mention here, as does Duncan, Amare Stoudemire, Carlos Boozer and/or Deron Williams, Baron Davis and, yes, Nowitzki.
Yet I'd be going with Ginobili if my ballot were due today because he's been the most dangerous and dependable Spur this season.
Think about that.
Marc Stein is the senior NBA writer for ESPN.com. To e-mail him, click here.
One more line to boost Chris Paul's MVP campaign: Paul's Hornets awoke Friday morning with sole possession of the No. 1 seed in the West for the 25th time this season.
That's tied for second with Phoenix behind San Antonio, which has been No. 1 on 50 different mornings thus far.
Only six of the West's 15 teams have been alone in the top spot for even one day. They are:
| | | |
| --- | --- | --- |
| Team | Span | Last day at No. 1 |
| San Antonio | 50 days | March 6 |
| New Orleans | 25 days | Current No. 1 |
| Phoenix | 25 days | Feb. 12 |
| Los Angeles Lakers | 16 days | March 22 |
| Houston | 2 days | March 17 |
| Los Angeles Clippers | 2 days | Nov. 8 |
---
Want more?
Paul's supporters will be pleased to know the most recent math passed on by our friends at the Elias Sports Bureau shows that the Hornets also have the best record in the conference against the rest of the West's top nine teams.
| | | | |
| --- | --- | --- | --- |
| Team | Record | Percentage | Current playoff seeding |
| New Orleans | 16-10 | .615 | 1 |
| Utah | 14-9 | .609 | 4 |
| Los Angeles Lakers | 16-11 | .593 | 3 |
| Houston | 13-13 | .500 | 2 |
| San Antonio | 12-13 | .480 | 5 |
| Dallas | 11-13 | .458 | 7 |
| Golden State | 10-12 | .455 | 8 |
| Denver | 9-14 | .391 | 9 |
| Phoenix | 9-15 | .375 | 6 |
---
From Jan. 29 through March 15, Manu Ginobili started 21 times for the Spurs in a span of 23 games.
But Spurs coach Gregg Popovich sent Ginobili back to the bench before their recent loss at home to Boston and says there will be no more flip-flopping.
Pop has decreed that Ginobili will remain in his sixth-man role for the rest of the season, meaning that Ginobili will finish the season with just 23 starts and thus ensuring that he'll receive the NBA's Sixth Man Award for the first time, probably unanimously.
"That's when we've played our best basketball historically and that's what we're going to stick with," Popovich said of using Ginobili as a reserve.

"There will be what you all call 'upsets' in the playoffs. And you will be wrong. There won't be any upsets because there is no eighth seed and there is no first seed. … The best team wins the championship every year and wins on the road. [Seeding is] probably not that big a deal."
Spurs coach Gregg Popovich, joining the chorus of daily reminders about how rough life is in what has to be the most competitive conference race in league history.
Who wins the West? Who wins the MVP race? Who would dare dispute that the pro game is superior to college ball?
If there's an NBA topic on your mind, chances are that Bill Simmons and Marc Stein -- who covered several more in addition to the aforementioned biggies -- got to it in their marathon B.S. Report podcast.
• Listen to the interview


A good chunk of our week has been spent looking back at
Chris Webber
's
career achievements
and his legacy, with assists from
J.A. Adande
and
Bill Simmons
.
But we can also take a look forward because Webber, having just announced his retirement only three weeks removed from his 35th birthday on March 1, insists he's not done with the game.
He has a strong interest in doing television work and was found in the TNT studios in Atlanta alongside Charles Barkley on the day after his farewell news conference. Webber sounded pretty candid for a TV rookie, too, making this assessment of the struggling Mavericks in advance of their damaging fall-from-ahead road loss in Denver: "Ever since I was in Sacramento, nobody really respects Dallas. You feel that they're a little bit soft."
Yet Webber told us this week that his true ambition for the next phase of his NBA life is a front-office career or even ownership. Webber says he's already been approached by two teams about a possible personnel job for next season.
Resigned to the reality that a 15-season run in the pros got him no closer to a title than his back-to-back NCAA runner-up finishes in a two-season stay at Michigan, Webber said: "Maybe it just wasn't meant for me to win a championship as a player. But maybe it was meant for me to win a championship as an owner or a GM. I feel like I can do a lot of positive things. I really want to touch our neighborhoods. I want to be a businessman like Magic Johnson and I want to be a philanthropist like Bill Gates."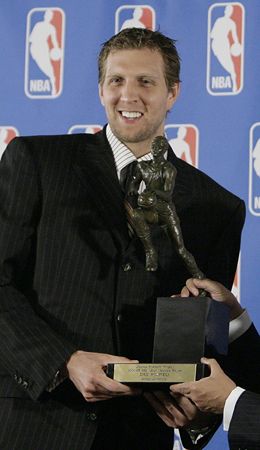 AP Photo/Matt Slocum
Dirk Nowitzki knows what it's like to hoist the NBA's Most Valuable Player trophy. And now he knows how it feels -- kind of -- to fill out a real MVP ballot. (See Box 1)
With the Mavs still slumping and their spot in the playoffs less than assured, Galloway and Co. have joined the citywide search for scapegoats on ESPN Radio's Dallas affiliate (103.3 FM). But Marc Stein is urging the GAC crew to keep Josh Howard off that list.
Galloway & Co.

Five questions with Celtics guard Sam Cassell:
Q: So what's life like as a Celtic so far?
A: Defense, man. I haven't been in a defensive stance this much in years. But in order for you to play for the Boston Celtics, you gotta play some defense. Then the rest will come. I'll be comfortable when this team needs me to play well [in the playoffs]. Ticket already understands, but I think you saw [against San Antonio] what I can bring to our ballclub.
Q: Is this the happiest you've ever seen KG?
A: When I first got to Minnesota, he was that way. But as soon as we [Cassell and Latrell Sprewell] left, it became a drag to him. He would never admit it, but I know his joy wasn't the same, his swagger wasn't the same. He was going into a gun fight with a butter knife. Every night. …
He had to get out of Minnesota. He had to. He's too good of a person, first of all, to be miserable.
Q: You haven't been a Celtic long, but how do you think this team matches up with all those teams in the West we're always talking about?
A: The West is tough, boy. Reminds me of my first couple years in the league in Houston. The top eight teams [are] just … wow. But let them do their battle in the West. They can have it. We'll be ready for whoever comes out.
Q: Were the Clippers just one-hit wonders?
A: That hurts. That would really hurt me, because I really enjoyed playing in L.A. I really enjoyed the fans in L.A. … I took 'em for one helluva ride. I took 'em somewhere where a lot of people didn't expect. We were one f---ing shot away from the Western Conference finals and having the opportunity to beat Dallas. And we split with Dallas [during that] regular season.
But I've been here three weeks and Doc [Rivers] and Danny [Ainge], you can see [they're] on the same page. They went out and filled in the pieces to make this organization be where it's supposed to be. This is a great organization. These people around here really take care of you.
Q: Is that why the Clippers have unraveled? Because the powers that be aren't on the same page?
A: They also lost Elton Brand. You know what I'm saying? When I found out that Elton tore his Achilles, I knew it. I knew what this season would be. We got off to a 4-0 start and everyone went gung ho. I was like ho, ho, ho, hold up. Golden State on opening night, emotions won that game. Then we beat Seattle, Chicago and Indiana, basically three teams under .500 right now.
I knew [a buyout] was gonna happen eventually. That's why I got David Falk [as an agent]. He told me, 'Just be patient, don't cause no trouble.' Because they say I'm a troublemaker. But they weren't going to re-sign me back next year, so why not?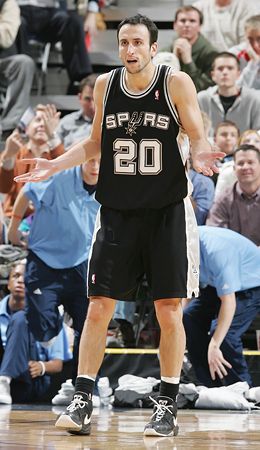 Melissa Majchrzak/NBAE via Getty Images
One of the nicer aspects of his job is that Gregg Popovich never has to worry about Manu Ginobili questioning the coach when he's asked to come off the bench. (See Box 2)

The New York Daily News reported this week that the
Memphis Grizzlies
want Sixers consultant Larry Brown -- who's better known, of course, as the last Knicks coach before Isiah Thomas -- to replace first-year man Marc Iavaroni at season's end.
It's the first mention of a possible return to the bench for Brown in a while … which Grizz general manager Chris Wallace immediately shot down. But there are some growing rumblings on the coaching grapevine that Charlotte is about to surface as a realistic option for Brown, too.
Bobcats president Michael Jordan would surely prefer not to fire Sam Vincent after just one season. Yet one plugged-in source describes Vincent's dismissal as an inevitability, with any hit that Jordan might take for the growing perception that the former teammate he hired can't reach Charlotte's players sure to be softened if he can convince a coach of Brown's stature to take over.
That scenario would be reminiscent of Jordan's tenure in Washington, when the first coach MJ selected -- Leonard Hamilton -- lasted only one season before being replaced by a proven NBA commodity in Doug Collins.
I'd argue, furthermore, that Brown is unlikely to come across a more appetizing option than Charlotte, even if the Grizz are interested or even if he's given an opportunity by the Hawks' dysfunctional ownership group to replace his former assistant Mike Woodson in Atlanta, as Peter Vecsey suggested Friday night on NBA TV.
Brown has made it clear that he doesn't want his 23-59 nightmare as the Knicks' coach to be his last big job and the Bobcats would have to appeal to the 67-year-old given his North Carolina ties, Jordan's decent collection of talent to work with and the Bobs' overwhelming need for someone who can teach them how to win.
All that would set Brown up perfectly in the East for the sort of instant improvement he triggered at pretty much every NBA stop he's made except with his hometown Knicks.
---

It's all but official now. Rasheed Wallace's reign as the NBA's Mr. T is pretty much over.
Wallace, in fact, is the only player from the East who even appears in the league's top five in technical fouls.
The Lakers' Kobe Bryant, with 11 techs since mid-January, is up to a league-leading 15 and will be forced to serve a one-game suspension after his next tech. (Unless you think Kobe can get through the next 10 games without one.)
Wallace? He has only 11 Ts in 68 games, tied for second overall with Golden State's Baron Davis, meaning Sheed would have to get five in the final 10 games to be subjected to a suspension. He served three one-game suspensions last season after ringing up 21 techs, by comparison, so either referees are treating Wallace with greater leniency or he's overdue some credit for comporting himself better than ever this season.
One important footnote: If Bryant or anyone else playoff-bound collects their 16th technical foul in the final game of the regular season, they would be forced to serve their one-game suspension in the postseason. The slate for Ts is otherwise wiped clean at the start of the playoffs, with suspensions starting when a player accumulates seven techs.
Most Technical Fouls, Regular Season
(Entering Friday's play)
Player
Team
Total
Kobe Bryant
L.A. Lakers
15
Baron Davis
Golden State
11
Rasheed Wallace
Detroit
11
Carmelo Anthony
Denver
10
Linas Kleiza
Denver
10
Chris Paul
New Orleans
10
---
We were thrilled to receive word that our man Dwayne Wilson is recovering superbly after suffering a stroke earlier this month on his drive into work as equipment manager of the Bucks.
Wilson was planning to make his first appearance as a spectator at a Bucks game Friday night with Orlando in town at the Bradley Center.
All our best wishes to you, D-Wonder. Just keep getting better.