(Photo by Duane Burleson/AP Photo)
Pondering How The East Will Finish

The calendar says we're almost to December, but let's take a look ahead to the last regular-season games of April 16 and just how the Eastern Conference playoff seeds might play out then.
One story worth watching is how the Nets develop. We talk about all the great teams with a Big 3, but if Nenad Krstic can come back to his form, he, along with Vince Carter and Richard Jefferson and Jason Kidd, could give the Nets a Big 4.
Boston's The 1

Here's how ESPN analyst Kiki Vandeweghe sees the East playing out.
1. Boston Celtics -- Role players fitting in. Only worry is if Big 3 can stay healthy.
2. Orlando Magic -- Forget last year's fast start and fall. More game this year. Dwight Howard's super.
3. Detroit Pistons -- Look for Rodney Stuckey to become a big player for them.
4. Cleveland Cavaliers -- Can Larry Hughes return to form? Too much one-man show now.
5. Washington Wizards -- Caron Butler steps up his game while Gilbert Arenas heals. Antonio Daniels: good fill-in.
6. Milwaukee Bucks -- Michael Redd a superstar, no longer one-dimensional shooter. Very flexible team.
7. Toronto Raptors -- Solid team that overachieved last year. Great mix of players.
8. Miami Heat -- The wild card with Dwyane Wade back. With him, Shaquille O'Neal can prove the doubters wrong.
But the 7-footer's left knee troubles have kept him out of the past three games. So, his health makes them a wild card here. But if everyone's healthy and playing at a high level, they're as good as any of the teams in the East. It never hurts when you have the best point guard in the conference -- Kidd.
Here's how I see it coming. And yes, that should be a good 1-8 matchup to watch …
1. Boston Celtics (11-2) -- So many intangibles that Kevin Garnett brings. And tangibles, too, when you talk about the matchup problems he creates. The Big 3 will find a way to the best record.
2. Detroit Pistons (9-5) -- Just like the old Timex commercial, they keep on ticking. Along with the Phoenix Suns, the best starting five in the game today. On Wednesday, they showed they can handle the Cavaliers (minus LeBron James). The two teams don't meet again until March 19.
3. Orlando Magic (14-3) -- There's a lot to like here. I like how the young team is shaking up the Southeast Division, which has been dominated by the Heat the past few years.
4. Cleveland Cavaliers (9-7) -- Don't underestimate the fact they're the defending champs. Before his injury Wednesday, James was putting up those 31-8-8 numbers, the kind of figures that make Oscar Robertson proud.
5. New Jersey Nets (7-8) -- Of note: Kidd got his fourth triple-double of the season and 91st of his career Tuesday. Could be a scary playoff team.
6. Toronto Raptors (8-7) -- Chris Bosh, who left Wednesday's win over the Memphis Grizzlies with a strained groin, is the fifth-best power forward in the game (after Tim Duncan, Garnett, Carlos Boozer and Dirk Nowitzki). His health is key. So is that of T.J. Ford, who has a great ability to force the tempo but has to stay healthy.
7. Milwaukee Bucks (7-6) -- After watching the playoffs from the sideline last year, the most prolific shooter in the game, Michael Redd, returns to the postseason. He's shown he can score from all kinds of angles, off picks and from the 3-point line. Mo Williams has emerged at the point, and Yi Jianlian has shown something right away.
8. Miami Heat (4-10) -- Last but not least! No playoffs in the East would be complete without Pat Riley, Shaquille O'Neal and Dwyane Wade.
That leaves out the Chicago Bulls. The team has had slow starts in recent years. But the Kobe Bryant trade talks, Luol Deng and Ben Gordon contract extensions, and Kirk Hinrich playing like a shell of his former self so far should keep them out of the playoff picture.
ESPN analyst Jalen Rose averaged 14.6 points per game in 59 career NBA playoff games. For more about Jalen, visit his Web site: JalenRose.com.
Dimes Past:
November 12
|
13
|
14
|
15
|
16
|
17-18
|
19
|
20
|
21
|
24-25
|
26
|
27
|
28
Truth Squad: Celtics Ready For The Heat
Three Not Always A Charm

There have been 19 teams in NBA history with three players who scored 20 or more points per game (minimum 40 games each player). None of those 19 teams won the NBA title.
Paul Pierce (21.7), Kevin Garnett (20.8) and Ray Allen (20.3) make up the only NBA trio currently averaging more than 20 points per game.
Past 4 Teams, 3 Players with 20+ PPG

| | |
| --- | --- |
| Team | Players |
| 1990-91 Warriors | Chris Mullin, Tim Hardaway, Mitch Richmond |
| 1987-88 Sonics | Tom Chambers, Dale Ellis, Xavier McDaniel |
| 1986-87 Sonics | Tom Chambers, Dale Ellis, Xavier McDaniel |
| 1983-84 76ers | Julius Erving, Moses Malone, Andrew Toney |
Notes on the Heat-Celtics, which can be seen at 8 p.m. ET Friday on ESPN and ESPN360:

Paul Pierce's nickname,"The Truth," was given to him by Shaquille O'Neal. After a Lakers' victory over Boston in March of 2001, O'Neal pulled a Boston reporter over and gestured toward his notepad. "Take this down," said O'Neal. "My name is Shaquille O'Neal and Paul Pierce is the [expletive] truth. Quote me on that and don't take nothing out. I knew he could play, but I didn't know he could play like this. Paul Pierce is the truth."
And from that time on, Pierce has been called "The Truth."
• Kevin Garnett has recorded a double-double in nine straight games against the Heat, dating back to the start of the 2003-04 season.
• Pierce had 12 points against the Heat earlier this season. He has played 28 games in his career against Miami and that was the lowest scoring game for him against the Heat. It is also a season-low in points for Pierce.
Watching The Clock
At some point, Boston coach Doc Rivers might scale back on the minutes of his top trio. They are all among the leaders in the NBA.
Mass. Minutes Men

| | | | |
| --- | --- | --- | --- |
| Player | Age | MPG | Rank |
| Ray Allen | 32 | 40.4 | 3 |
| Paul Pierce | 30 | 39.0 | 12 |
| Kevin Garnett | 31 | 38.2 | 15 |
• Since losing nine of 11 games against the Heat, the Celtics have won two straight against Miami. That last win in Miami 92-91 snapped a five-game Heat home win streak against Boston. It is one of only five games for the Celtics that have been decided by single-digits.
Dwyane Wade
missed a jump shot with two seconds left that would have won the game for Miami.
• Each of the last three games between these teams has been decided by three points or less. The Heat are 2-1 in those games.
• The Heat are forcing 17.9 turnovers per game since Wade came back (7 games). The Heat forced 14.4 turnovers per game in their first seven games, played without Wade.
Shaq Watch

Shaquille O'Neal is no longer the dominant player he once was, now in his 16th season. Last season was the first in O'Neal's career averaging less 20 points per game.
Notable Big Man Decline

| | | |
| --- | --- | --- |
| Player | First Sub-20 PPG | Age |
| Shaquille O'Neal | 15th season | 35 |
| Hakeem Olajuwon | 14th season | 35 |
| Patrick Ewing | 14th season | 34 |
| Wilt Chamberlain | 13th season | 35 |
• The Heat have won three of their last five games after a 1-8 start.
• The Heat have won two straight home games after losing five straight home games to start the season.
• The Heat have shot better than 55 percent from the field in each of their last two home games, both wins.
• It appears 1980s band Loverboy was right -- everybody is "Working for the Weekend." During the week (Mon-Fri), the Heat are 0-9. On the weekend (Sat-Sun), Miami is 4-1.
-- Compiled by Peter Newmann

By David Thorpe
|
ESPN.com
Mike (PHX AZ): David, if teaching a player to shoot is so easy, why don't all players in the NBA shoot well … is this just a question of effort we're talking about here? If they aren't learning to shoot, what the heck are they doing in practice and drills, or offseason work for that matter?
David Thorpe: 1. Not everyone can teach shooting. 2. Making it and shooting it are wholly different. Talent is part of the equation.
Samuel (Tucson, AZ): DT! With all his athletic skill, how good could Shawn Marion be if he just learned how to shoot properly? I think he could be an All NBA first teamer because he gets 15 points a game on garbage buckets anyway. If he had a stroke, what could he do?
David Thorpe: Yes, I believe he'd make more shots if he had better fundamentals. But I don't think he agrees.

Wednesday's Best

Dwight Howard, Magic center:
While Rashard Lewis' return to Seattle was not-so-hot (nine points, 16 misses), Howard was huge with 39 points, 16 rebounds and five blocks in a 110-94 win.
---

Wednesday's Worst

Milwaukee's Bomb Squad:
The Bucks top five reserves go by that explosive moniker. Against the Hawks, they were a dud, making only 2 of 18 shots. Charlie Villanueva, Charlie Bell and former Hawks guard Royal Ivey combined to go 0-for-12 in a 96-80 loss.
---
Quote of the Night

"I didn't hit him that hard, but it's easy to sprain a finger. I'm sure he'll be OK."
--
Detroit center Nazr Mohammed,
on giving the foul that hurt LeBron James with 4:41 left in the first half.
• See how all 197 players fared
-- Andrew Ayres

Celtics coach Doc Rivers talks to Stephen A. Smith about the development of the team. Rivers remembers the night Boston got Kevin Garnett, talks about depth, keeping minutes down, distributing the ball, and the Eastern Conference favorites.
• Rivers: Posey key addition


Here are David Thorpe's top rookies four weeks into the season:
(Previous rank in parentheses)
1. Juan Carlos Navarro, Grizzlies (6)
He's terrific when he gets 30-plus minutes; the Grizzlies are 2-1 with him as a starter. He followed his 28-point performance -- on only 14 shots -- against the Wizards with a gritty, 16-point, 11-board showing in a big win in Jersey on Tuesday. If he can maintain these minutes, he will put up enough numbers to compete for rookie of the year with the "Big 3" (who follow him here).
2. Kevin Durant, Sonics (2)
I see him starting to catch on, realizing that he is too long and skilled to be defended well on dribble-drives. He seems to be playing with more discipline, too. I sense that once he moves into the top spot on this list, he'll grow roots there.
3. Al Horford, Hawks (3)
"I, Robot" is what Horford's all about, and I mean that as a total compliment. He's not robotic on the floor, but he's so consistent and predictable that he seems more machine than human. Unintelligent players are just the opposite; Horford is as intelligent for a rookie on the court as they come. Teams are starting to see his mid-post face-up game, too, which is fairly developed already.
4. Yi Jianlian, Bucks (1)
He is still performing well overall but not at the same level he was two weeks ago. Rookies sometimes feel like they are playing a game every night. That is what Yi has looked like lately.
• See the full rookie report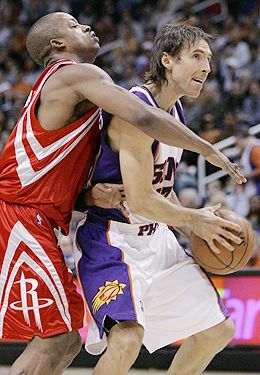 AP Photo/David Zalubowski
Rockets guard Steve Francis gets close to Steve Nash. He played a season-high 27 minutes, putting up nine points and seven assists in a 100-94 win over Phoenix.