Melissa Majchrzak/NBAE/Getty Images
Back Story: Deron Puts Utah On His, While Kobe's Aches

SALT LAKE CITY -- Deron Williams forced himself back into the NBA conversation just as much as the Jazz clawed their way back into this series with the Lakers over the weekend.
Actually, the second part of that sentence depended on the first. For a young team seeking consistent efforts in these playoffs, Williams is turning into the Jazz's most reliable option. Carlos Boozer had his best game of the postseason Friday night, then regressed to a 5-for-15 shooting performance Sunday. Williams followed a solid effort in Game 3 with an even better Game 4, a 123-115 overtime win, the central recurring character in the two Jazz victories that evened these Western Conference semifinals at 2-2.
Playoff Schedule
WEST SEMIFINALS

New Orleans 2, San Antonio 2
Game 5: Tue., 9:30 ET, at NOR
L.A. Lakers 2, Utah 2
Game 5:Wed., 10:30 ET, at LAL
EAST SEMIFINALS

Detroit 3, Orlando 1
Game 5: Tue., 7 ET, at DET
Boston 2, Cleveland 1
Game 4: Mon., 8 ET, at CLE
So while
Chris Paul
has the accolades, the Sports Illustrated covers and all that, Williams has coaxed his team to the conference finals once, and now is halfway to another. Just saying. And while it might not have been dramatic as
Kobe Bryant
's back injury that made the Lakers star look like Fred Sanford finishing a marathon as he ran down the court, Williams did excel over the past six quarters despite bruising his wrist and hand in a fall just before halftime of Game 3.
"If we're struggling to score, I try to assert myself in the game," Williams said.
He played so masterfully Sunday, had his hand in so many positive things for the Utah Jazz, that there really was only one question to ask.
How'd you get your shot blocked by Derek Fisher?
After the Lakers mounted a 12-point comeback in the fourth quarter, Williams had a chance to win the game in the waning seconds. But Fisher got a piece of Williams' jumper and the Lakers safely recovered. It was, statistically, almost as unlikely as Tim Duncan's 3-pointer in the Spurs' first playoff game; Fisher blocked only three shots the entire season.
"I should've went right," Williams said. "I wish I had the play over again. He did a great job of defending and getting his hand up."
No problem for Williams and the Jazz; they outscored the Lakers 15-7 in overtime, and he got four more points and three more assists to pad his totals to 29 and 14.
The Lakers kept lamenting their inability to get stops at critical times, and the main reason for that was their inability to corral Williams. At one point my editor e-mailed to say Williams looked like Joe Montana running things in the pocket. But a couple of key plays looked more like Brett Favre improvisations.
On the first, Williams saved the ball from going into the backcourt then dribbled, spun and hit a fallaway 20-footer to restore Utah's lead to three points.
On another he spun out of a sideline double-team by Bryant and Lamar Odom, stumbled and somehow got the ball to Boozer, who was fouled by Fisher and converted both free throws.
More heady play from Williams, who is savvy enough for Jazz coach Jerry Sloan to entrust with the offense after calling most of the plays from the sidelines during the John Stockton era.
"I think he's a terrific player," Sloan said of Williams. "He tries to get us into what we want to do. He's great at trying to get players to where they need to be. He's just grown and grown and grown as a great player every day. You don't have much coaching to do when he does what he does."
We're used to all of the crunch-time accolades going to Bryant. But he never was the same after wrenching his back on a turnaround jump shot on the second play of the game and shot 2-for-13 in the fourth quarter and overtime.
He went into the locker room for some stretching exercises at the end of the first quarter, emerged and wrapped a heat pad back around it, and appeared to aggravate it several times during the course of the game. Afterward he had an electrical stimulator working his back muscles, and he conducted his press conference while standing and holding a wireless microphone ("Like Don Cornelius," he noted).
He said he "should be OK," by Wednesday and he'll "definitely play in Game 5."
The Lakers hoped to close out the series by then, but now they'll have to make another trip to Salt Lake City for Game 6 Friday.
In addition to Bryant's injury, the Lakers were undone by 11 misses among their 25 free throws, three fouls that limited Fisher to only 3½ minutes in the first half, and the ejection of backup big man Ronny Turiaf for a flagrant foul 2 on Ronnie Price that was a case of the impact looking much worse than the intent.
Sasha Vujacic rebounded from his scoreless Game 3 to score 11 points on 4-for-6 shooting, but the rest of the reserves were so ineffective, Lakers coach Phil Jackson had to call them out after the game, when he also criticized Bryant's teammates for becoming too dependent on their ailing star in crunch time.
"I was angry at his teammates for dropping the ball off in his lap," Jackson said. "I thought guys just bailed out on him."
"I know what he means by that," Bryant said. "He wants them to come at me, but come to me later, not right away and just stand around."
To some, watching Bryant limp around this building was reminiscent of Michael Jordan's "sick game" in the 1997 NBA Finals, when he willed himself through the pain. Sloan indicated he had some of those flashbacks himself.
"That's not a pleasant feeling," Sloan said. "I've been in it a couple of times and usually come up short."
This time, the Jazz prevailed. This time, they had the impact star. His name happened to be Deron Williams.
J.A. Adande is the author of "The Best Los Angeles Sports Arguments." He joined ESPN.com as an NBA columnist in August 2007 after 10 years with the Los Angeles Times. Click here to e-mail J.A.
Playoff Dimes Past:
May 1
|
2
|
3
|
4
|
5
|
6
|
7
|
8
|
9
|
10
|
11
Booing Stops, Fisher Comes On Strong

By Tim Buckley | Special to ESPN.com
SALT LAKE CITY -- At least the spectators in Utah aren't booing him anymore.
Beyond that, though, Derek Fisher can't seem to buy a break.
The ex-Jazz guard who is now back running the point for the Los Angeles Lakers has battled foul trouble early in the past two games of the Western Conference semifinal series between the two teams, and even when he warmed up late in the fourth quarter of Sunday's Game 4, it still wasn't enough.
"It's bothered us both games,'' Lakers coach Phil Jackson said of Fisher's quick fouls, which on Sunday resulted in his logging just four first-half minutes.
Fisher can only hope it doesn't happen again when the series -- tied 2-2 after Utah's 123-115 overtime win in Game 4 -- resumes Wednesday in Los Angeles.
"You can't change in terms of playing aggressive and being physical out on the floor,'' he said. "But I definitely don't want to continue to put myself in the position where I'm impacting the team early in the game by having to go to the bench with nine-plus minutes to go in the first quarter."
Late in Sunday's fourth quarter, however, Fisher practically owned the floor.
With MVP Kobe Bryant slowed by a bad back that he twisted on his second shot of the game, Fisher -- booed derisively in his first return to Utah this season by many Jazz fans who questioned the circumstances of his departure from the franchise and his relatively quick re-signing with the much-despised Lakers -- took over.
With Utah up by 12 and fewer than four minutes to go, Fisher knocked down a 3-pointer from the right corner. Next possession, a 3-pointer from the left corner. And after hitting a free throw stemming from a technical foul on Mehmet Okur, it was back to the right for yet another trey.
By the time the fourth quarter was done, Fisher was up to 15 points and OT was on.
"One of them I just helped a little bit too much. I recovered, but once he's in his rhythm, it is going up,'' Jazz point guard Deron Williams said after a 29-point, 14-assist day boosted in part by Fisher's foul issues. "Another one he got a back screen, I didn't see it coming.
"He just got hot at the end of the game,'' added Williams, who also had a potential game-winning shot blocked by Fisher late in regulation, "and did a great job making shots for them and forcing overtime.''
Ultimately, though, the Jazz would prevail.
That left Fisher -- who asked out of his contract in Utah last summer to be close to requisite medical care for his young daughter Tatum, who underwent surgery last May for her rare childhood eye cancer -- bemoaning what easily could have been a 3-1 Lakers series lead.
"It was a good effort and we gave ourselves a chance to win the game,'' said Fisher, who won three NBA title rings during his first stay in L.A. "On the road, sometimes that's all you can ask for."
That, and perhaps some of the respect he finally seems to be getting from fans who not long ago cheered him as one of their own.
Tim Buckley covers the Utah Jazz for the Deseret News.
With Strong Duncan, Healthier Outlook For Champs

By John Hollinger | ESPN.com
SAN ANTONIO -- Maybe it's a one-game mirage, or maybe they were playing possum on us the whole time.
All I know is after three games of watching a team called the Spurs battle the Hornets, Sunday I finally felt like I was watching the defending champion San Antonio Spurs.
In evening their best-of-seven series 2-2 with a 100-80 rout of New Orleans, the Spurs did everything we've become accustomed to over the past few years. Each of their Big Three produced big numbers, with Tony Parker, Manu Ginobili and Tim Duncan combining for 54 points in the first three quarters to put the champs up 85-61 before the Hornets waved the white flag.
The Spurs' ball movement was outrageously good, with the ball flying around the perimeter once one of the Big Three gave it up and seemingly always landing in the paws of an open shooter. That enabled the Spurs to shoot 58.9 percent through three quarters and assist 22 of their 33 field goals; nearly all the ones that weren't assisted were straight screen-and-roll drives by Parker.
"It's all about moving the ball against these guys," Duncan said. "We know where they're coming from and we have to find our shooters and make jump shots."
The offense was a major factor, but the D was just as important. San Antonio stopped the Hornets for the first time all series, by using the same strategy they've used successfully against Phoenix's Steve Nash and applying it to Chris Paul.
They let him get his points (23) but cut off the Hornets' other scorers -- through three quarters his teammates only had 38 points. (Side note: I'm using all third quarter stats here since the game had effectively ended by then; we don't care how 12 minutes of Jacque Vaughn and Ryan Bowen impacted the numbers).
• For the full John Hollinger story, click here.

SUNDAY'S BEST
Deron Williams, Jazz guard
: Goes for 29 points on 9-for-13 shooting along with 14 assists in Utah's Game 4 win over the Lakers. Sinks all eight of his free throws, too.
---

SUNDAY'S WORST
Peja Stojakovic, Hornets forward
: Having Bruce Bowen on your case is no fun. Peja was averaging 15.8 ppg in the playoffs, but was held to six points on a night when New Orleans could have used a few 3s to get things going.
---
QUOTE OF THE NIGHT

"They're just kicking our butts right now. Is that simple enough?"
-- Hornets coach Byron Scott, after his team's Game 4 loss.
-- Andrew Ayres
Spurs have evening touch

By John Hollinger
ESPN.com
This is the great irony of Mike D'Antoni's departure. In his first three seasons in Phoenix, he made the conference finals twice and fought a tooth-and-nail series with the eventual champion the other year.
And yet at the end, guess what the biggest criticism of him was?
His system doesn't work in the playoffs.
Ex-squeeze me? Baking powder? Are we really saying that his style doesn't work because he took over a 29-win team and didn't immediately produce a championship? And if so, aren't we placing the bar laughably high in light of that 3.3 percent figure? Consider that over the past three years only three teams have had more playoff success than the Suns: San Antonio, Detroit and Miami. That's it. The other 26 have fared worse.
D'Antoni had his team in position to win titles twice in three years, and the one year he didn't he was missing his best scorer and still made the conference finals. Yet somehow he's regarded as a snake oil salesman, the basketball equivalent of a Nigerian scam, because his mojo supposedly works only in the regular season.
Not to get all Al Gore on you, but it's times like these when I have to bring up some inconvenient truths.
Like the fact that Phil Jackson has nine championship rings and may get a 10th this year, but there's only one prominent coach he's faced in the playoffs and hasn't beaten: D'Antoni.
Or the fact that D'Antoni is 26-25 in the postseason; this doesn't seem impressive at first until you remember virtually everyone else has a career playoff record under .500, because Jackson and Gregg Popovich have monopolized all the playoff victories in the past decade.
Among current coaches with at least 25 playoff wins, only D'Antoni, Jackson, Popovich, Byron Scott, Larry Brown and Mike Dunleavy are over .500; D'Antoni is the only one that hasn't made the Finals, at least yet. (Jerry Sloan, Mike Brown and Stan Van Gundy can also join that club, depending on how they fare the next few weeks).
Overall, D'Antoni's situation reminds me a lot of when crusty old baseball people criticize Oakland's Billy Beane for not winning a title ... as though he should turn around and do business like the Pirates since his system has "failed."
So let's cut to the truth. D'Antoni was wildly successful by any imaginable standard, and the Knicks are very lucky to have him. We'll see if the Suns can keep it up without him -- certainly the talent is there -- but one can't help but question whether they're overreacting to being in the 96.7 percent.
But in this 3.3 percent world, his accomplishments were made to seem like failures. And for that, I think we need to take a harder look at our own definitions of success.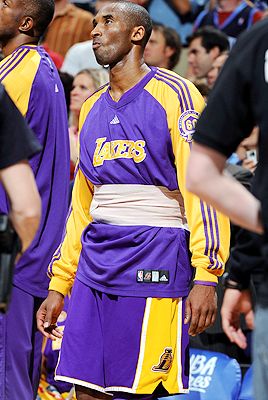 Andrew D. Bernstein/NBAE via Getty Images
Lakers guard Kobe Bryant keeps his back wrapped to combat back spasms he began suffering in the first quarter of the Game 4 loss to Utah.

By J.A. Adande
ESPN.com
SALT LAKE CITY -- Lakers coach Phil Jackson had deep connections with every side of the Mike D'Antoni-to-the-Knicks story: He was drafted by the Knicks and played 10 years in New York, Suns general manager Steve Kerr played for him in Chicago and, it turns out, he has kept an eye on D'Antoni since D'Antoni broke into the league with the Kansas City Kings in 1973.
"One of my former teammates pulled me aside and said I want to introduce you to a rookie, his name is Mike D'Antoni, he's a really good student of the game," Jackson said. "So I met Mike when he was 21, 22 just coming out of college. I've kind of followed his career, Italy and coaching there, Denver and so forth. He's got coaching skill. He's going to get something done [in New York], and I think it's a good choice. It's a real change in philosophy between what they're built for and what he has coached as a team and what he seems to have a propensity to coach. I think he'll make a good adjustment there."
Of the up-tempo style D'Antoni employed during his four years coaching the Phoenix Suns, Jackson said:
" It was great to watch. We all wondered whether it could win playoff basketball or not. It got them to the finals -- the finals of the conference -- [twice]. It's kind of imploded now, we have to see whether it rebuilds again."
Jackson said Kerr, in his first year as GM is going through a "baptism by fire" with the big trade for Shaquille O'Neal and now the search for a new coach.
"I did send him an e-mail recently that just told him I had utmost confidence in his ability to make good choices," Jackson said. "He's been a guy that has great sense about him and he'll do fine."

By Elias Sports Bureau
Kobe Bryant had 33 points, 10 assists and eight rebounds in the Lakers' overtime loss at Utah. Bryant has posted at least 30 points, six assists and six rebounds in each of his last five games, the longest such streak for any player in NBA postseason history. Michael Jordan (1993 to 1995) and Oscar Robertson (1963 to 1964) had four-game streaks which spanned playoff years.
• See more Elias facts that figure.