Joe Murphy/Getty Images
J.J. Redick is getting extended minutes for the Magic, but his fabled shooting touch remains at-large.

Marcio Jose Sanchez/AP Photo
The Heat celebrate their 130-129 overtime win while Golden State's Jamal Crawford walks away.

Brian Babineau/Getty Images
Kevin Garnett prepares to jam during Boston's 107-88 win over Orlando. Boston is now 17-2.

Chuck Burton/AP Photo
Jason Richardson jammed his way to 25 points in Charlotte's 100-90 win over Minnesota.
For Better Or Worse, Redick Is Getting His Shot
This spot that J.J. Redick is in now, one where he's finally entrenched in the Orlando Magic's rotation, should have brought him much joy.
After all, he spent two maddening seasons mostly saddled on the bench while waiting for an opportunity like this to play. And then there were the countless hours over the summer working in the weight room and on the track, trying to improve himself physically and prepare for his big chance.
So now that he's actually playing, why then, you must wonder, is the Duke University legend so peeved?
"It sounds funny even saying it, but the only thing holding me back right now is my shooting,'' Redick said recently with a smirk and a smile.
If Redick struggled defensively, it would have been about as surprising as NFL diva Plaxico Burress finding trouble again. If he had trouble creating his own shot or cracking the rotation on a Magic team already loaded with scorers, no one would have batted an eye.
But seeing Redick, college basketball's all-time leading 3-point shooter, struggle with a jump shot that looks like it's right out of a handbook is downright confounding. Misses, both on open and contested looks, have been so prevalent that Redick might soon have to offer refunds for all of those "Better Basketball" shooting videos he's sold.
Redick made 2 of 5 shots (all 3-point tries) and scored six points in Orlando's lopsided 107-88 loss to the Boston Celtics Monday night. His shooting percentages -- 31 percent from the floor and 29.4 percent from 3-point range -- continue to resemble frigid winter temperatures. And, understandably, no one has taken the shooting slump harder than Redick.
"I feel like I've done a lot of things well, and if I could just make a couple of shots, I could go from playing solid to playing really well,'' said Redick, who came out of Monday's game averaging 4.4 points a game.
Redick is getting this shot, in large part, because of injuries to starting shooting guard Mickael Pietrus (torn right thumb ligament) and top reserve Keith Bogans (fractured left thumb). Orlando's once log-jammed shooting guard position now has only Redick and promising rookie Courtney Lee available for the next three weeks.
The hope, for now at least, is that consistent minutes will help Redick gain rhythm and confidence and allow Lee to shorten his rookie learning curve.
Orlando forward Rashard Lewis said recently: "Everybody around here wants to see J.J. play. Well, they're going to get their wish.''
Magic fans have long wished to see Redick get a fair shake after he spent much of the past two seasons looking on from the bench. He had been reduced to mostly mop-up duty, and his mere entrance into games usually elicited ovations as if he were some sort of underdog "Rudy" character from Notre Dame football lore.
It was a far cry from what was expected when Redick was selected with the No. 11 pick in the 2006 NBA draft following a highly decorated college career at Duke. The thought in drafting him went something like this: With Dwight Howard dominating down low and Hedo Turkoglu emerging as one of the game's better drive-and-kick playmakers, Redick's shooting would mesh perfectly.
But he played 42 games as a rookie and saw his chances dip to just 34 games (and 346 fewer minutes) last season under Stan Van Gundy. Redick was so despondent that his agent, Arn Tellem, went to Magic GM Otis Smith last December to request a trade.
That never happened, and Redick worked for several weeks this past summer back at Duke to give himself a chance at finally cracking Orlando's rotation. He added noticeably more muscle to his 195-pound frame and improved his explosiveness with work on the track.
And the work paid off in the preseason, when Redick played as consistently as anyone in Magic pinstripes. He made 51 percent of his shots, drilled 10 of 18 3-pointers when defenses double-teamed Howard inside and averaged 10.5 points.
He was so impressive that Van Gundy named him the top reserve behind Pietrus. But what followed was downright ugly. Redick missed all eight of his shots, three of them on unsightly air balls, in his first three games and was shifted back to the bench.
Just as he feared that he might not get another shot to play meaningful minutes again, Redick landed his first professional start on Nov. 18 when Pietrus was out with bruised ribs. Obviously jaded from two-plus seasons of being buried on the bench, Redick feared for the worst before scoring 10 points in 34 minutes.
"I told my brother that I'd probably play three minutes until the first TV timeout, come out of the game and never play again,'' Redick joked.
Injuries ultimately ensured Redick another chance, and now it's up to him to make sure it lasts long after Pietrus and Bogans return. Van Gundy, who calls Redick "not a good shooter, but a great shooter,'' is hoping that guaranteed, uninterrupted minutes will help soothe his guard's nerves. And Redick knows that for all of the focus on his defense and ballhandling, he will ultimately be judged by his ability to hit shots.
"I'm a professional and I'm paid to make shots, and if I'm not doing that, then I'm not doing my job,'' Redick said. "There's a lot made of my defense, rebounding and assists, but I'm ultimately judged by my shooting. I just need to go out there and make 'em.''
John Denton is a regular contributor to ESPN.com. He covers the Magic for Florida Today.
Dimes Past: November 18 | 19 | 20 | 21 | 22-23 | 24 | 25 | 26 | 27 | 28-29 | December 1
Crawford Makes Home Debut In Heartbreaking Style
By Ric Bucher | ESPN The Magazine

To summarize the reaction of most Warriors fans when the team got
Jamal Crawford
for
Al Harrington
from the Knicks a few weeks ago: "Are you kidding me? We fleeced 'em!"
Reaction of Knicks' fans: "You guys haven't been rushing home for those 4:30 PT Knicks' tip-offs the last few years, have you?"
If Crawford's home debut Monday night was any indication, the We Believers are going to find out in short order what the people of New York -- and Chicago before that -- have learned: No one delivers both thrills and heartaches quite the way the good-natured Crawford does.
The thrills: 40 points on 11 of 22 shooting and seven assists.
The heartache: A lost rebound at the end of regulation, a lost entry pass in the final seconds of overtime and a missed last-chance runner, resulting in a 130-129 overtime win for Miami. Which now runs the Warriors' record to 0-5 since the, uh, fleecing.
Not that Crawford deserves full credit for the meltdown. Corey Maggette provided just as much excitement and anguish. His 29 points, including 17 of 18 free throws, were offset by a pair of defensive plays in the final 15 seconds of overtime that allowed the Heat to recover from four- and three-point deficits. First, Dwyane Wade drew contact on Maggette before hoisting an easy pull-up jumper for a three-point play, paring a 127-123 lead to one. Then, after a pair of Crawford free throws expanded the lead to three again, Maggette gave Chris Quinn -- that's 6-foot-2 Quinn and 6-foot-5 Maggette -- room to nail a corner 3 to tie the score with seven seconds left.
Beasley then stepped in front of Crawford to steal the subsequent inbounds pass from Andris Biedrins, leading to a Beasley free throw with 3.4 seconds left. Crawford got one last chance to redeem himself, driving hard to the lane and creating enough space for a pretty 7-foot runner. It rolled off the rim and Crawford fell on his back in exasperation.
To summarize his reaction: "Not again!"
Ric Bucher covers the NBA for ESPN The Magazine.
Crossover Appeal Remains Strong
By Henry Abbott | ESPN TrueHoop

You know how Allen Iverson tends to spend a lot of time noodling with the ball on the perimeter, teasing his defender?
Don't you wonder what's going through his mind at that time? I think a lot of people suspect he is merely trying to embarrass his opponent with tricks, but I suspect that's not so. He's far too competitive, and respectful, to think like that.
I think he's setting different things up. Working the mind of the defender.
And I just ran across a little video clip from the archives where Iverson talks about doing just that.
• For the full TrueHoop blog entry click here.
By Andrew Ayres
ESPN.com

MONDAY'S BEST
Dwyane Wade, Heat
: Goes for 37 points and 13 assists in the 130-129 overtime win, made possible by a clutch Chris Quinn 3 with 7.1 seconds left in overtime, followed by a savvy Michael Beasley steal.
---

MONDAY'S WORST
Warriors' finishing moments
: Jamal Crawford's home debut with the Warriors ended with his potential game-winner rolling off the rim. But Golden State's inattention to effective defense when the game's on the line showed.
---
QUOTE OF THE NIGHT
"This was one interesting game. A lot of technicals ... I better be quiet before I get a technical."
-- Celtics coach Doc Rivers, after eight technicals were called in his team's 107-88 win over the Magic (referee Bob Delaney called four in the first half)
By Andrew Ayres
ESPN.com

Earlier this season, Celtics center Kendrick Perkins got the ball down low and took it right to the Pistons' Rasheed Wallace. Sheed seemed amused that the young fellow was so aggressive.
Perkins didn't score on that play, but he's dominating Sheed in another category -- technical fouls. Wallace, who led the league in T's three straight seasons and had a staggering 41 in 2000-01, has been Little Lord Fauntleroy so far this season with "only" four T's.
Perkins, meanwhile, picked up technical foul No. 9 during a win Monday over visiting Orlando. He earned it when a call went in his favor -- a goaltending call against Dwight Howard.
That's how you get a league-leading total. If he gets to 16, he'll be due a one-game suspension. At this rate, he could have a vacation just in time for the Christmas Day matchup with Andrew Bynum and the Lakers.
Perkins is just part of a Boston T party. The Celtics lead the league in techs.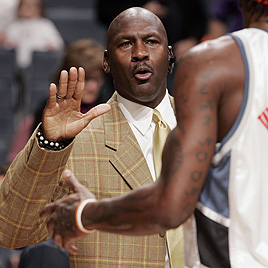 Kent Smith/Getty Images
Bobcats part-owner Michael Jordan, back in his courtside seat for a second straight game following a two-week absence, salutes Gerald Wallace's game in a win over Minnesota.
Sunny Outlook? Not Exactly
By John Hollinger
ESPN.com

An excerpt from Hollinger's daily Insider Gems:
Sunday's loss to New Jersey dropped the Suns to the second page of the Hollinger Power Rankings, at No. 18 -- the first time we've had to click through to see their ranking since I started doing these.
This might surprise some since the Suns are a solid 11-7 on the season. But Phoenix hasn't played well in its past 10 games (a component of the power rankings), including consecutive home losses to the Heat and Nets, plus we have a bubble of basically evenly matched teams in the middle right now. Ten teams have a power ranking between 98.8 and 101.1, so what at first seems like a yawning gap between No. 10 Indiana and No. 19 New Jersey is actually smaller than the gap between No. 9 New Orleans and No. 10 Indiana.
The concern for the Suns, however, is that they don't want to be the one team left out in the West playoff chase. As things stand now, the West has striated into the Big Nine and the Little Six, and only eight of the Big Nine will make the postseason.
At the moment, the Playoff Odds think the Spurs and Jazz have better odds of being shut out, but the Playoff Odds don't know about their injuries. For a healthy Suns team to find itself behind the likes of Portland, Denver and Dallas -- their likely rivals for the final playoff spot come April -- is a troubling sign.