(Brian Kersey/AP Photo)
Checking The Disappointment Book

Disappointment comes in many forms. First and foremost, you can't truly be a disappointment if there were no expectations of you to begin with.
In the NBA, there are exceptions. Let's start the climb up the disappointment totem pole with a team that has to be viewed unhappily, even if there wasn't much expected of it. Here are the five most disappointing teams so far this season …
1. Minnesota Timberwolves -- When they traded Kevin Garnett, there was reasonable hope that of the five guys they got in exchange, more than one would be significantly productive. Al Jefferson is a double-double waiting to happen and has great days ahead. But the other ex-Celtics haven't helped bring wins.
That's why Tuesday's game with the Heat, which pitted the two teams with the worst records in the NBA, was a chance for the Wolves.
The Wolves definitely would have circled a game like this as a winnable game. Even a good team projects how it might do when it looks at the schedule, depending on factors such as playing a fourth game in five nights or the second of back-to-back games.
For the Wolves, this 101-91 win over Miami improved their record to 5-29.
2. Miami Heat -- The parts just don't fit this season.
To be a full-fledged disappointment, you need expectations that go unmet. Making the playoffs is one of their expectations, and it looks like they won't make it.
You think you could put together a decent surrounding cast around two potential all-NBA performers in Shaquille O'Neal and Dwyane Wade and a Hall of Fame coach in Pat Riley. Ricky Davis and Udonis Haslem can play at a high level, but when you look at the other guys on the roster, you find the reason this team hasn't performed up to expectations.
3. New York Knicks -- When I play as them on the video game "NBA Live", they can compete against the Spurs, the Suns, anyone. I know my PlayStation3. The Knicks are as good as anyone in that game.
On the court, success has been harder to come by. No one expected them to be contenders for the championship, but looking at this roster, you would think they could make the playoffs. If you look at the Eastern Conference, this is definitely a team that could finish .500.
But as it stands now, even with a 105-100 win Tuesday in Chicago, the Knicks still are 9-24. In New York, situations are magnified. When you're not getting it done, the pressure is like any other city, times two. The Knicks are feeling that.
4. Memphis Grizzlies -- A team that has one of the top shooters in Mike Miller, has Pau Gasol and drafted highly regarded Mike Conley Jr. It also brought in the top coaching prospect, Marc Iavaroni, who was going to bring the Phoenix-style offense to the table.
It hasn't gone well.
After a 117-101 home loss to the Lakers on Tuesday, the Grizzlies fell to 10-24. Jerry West already had found a way to disassociate himself from this current Memphis scenario. Looks like Damon Stoudamire has, too.
5. Chicago Bulls -- Before the season began, Las Vegas actually predicted them as one of the favorites to come out of the East.
Then, the season began. The Bulls are the only team to fire their coach so far this season. The highest-paid player, Ben Wallace, doesn't know if he can wear his headband, and the second-highest paid player, Kirk Hinrich, already has been benched.
Bulls fans are as passionate and loyal as they come, but even they have found a way to let out the boo-birds. Some fans wear Kobe Bryant shirts. Chicago fans have a different sense of success, with memories of two of the 50 all-time best NBA players (Michael Jordan and Scottie Pippen) still fresh. They are looking at this through different lenses than the Knicks fans, who are passionate but have only one championship to look back on.
Chicago still has not found a way to get that consistent inside scoring threat. Another big presence inside would make Wallace more effective, allowing him do the dirty work. But when Big Ben's the only big man down there, it's not good.
Is coming off the bench better for Ben Gordon? I think the fourth quarter best suits Gordon. During introductions, a player's ego commonly likes to hear his college and how tall he is. But when you are in there in the end, which is when Ben likes to make those shots, they all still see you make the plays.
Despite all the talk of disappointment, I wouldn't be surprised if Chicago turns it around and makes the playoffs.
ESPN analyst Jalen Rose is a regular Daily Dime contributor. For more about Jalen, visit his Web site: JalenRose.com.
Dimes Past: December 21-22 | 23 | 24 | 25 | 26 | 27 | 28 | 31 | January 1 | 3 | 4 | 7 | 8

Chris (Utah): I agree with you 100 percent. Play Carlos Boozer at the 5 and Andrei Kirilenko at the 4 with Kyle Korver at the 3. But who do you think the Jazz could get for Mehmet Okur? We need a defensive stopper desperately.
John Hollinger:
You'd be trying to get a small forward to start ahead of Korver and use KK 25 minutes off the pine. AK will take care of some of the D because he'll block a ton of shots if you move him back to the 4, but yes, it would leave them a bit short in terms of post defenders. Gotta give up something to get something.
Doug (CLE):
Does Cleveland turn its season around or will a weakness at the 2 guard spot once again prove fatal?
John Hollinger:
Both. I think they're turning the season around, but no way they get past the second round of the playoffs without another sniper on the perimeter. That's why you're seeing all this
Mike Bibby
talk.
• See the full Hollinger chat

By Mark Simon
|
ESPN Research
Notes on Bulls guard Ben Gordon, who scored 21 points in Chicago's 105-100 loss to New York on Tuesday.
• Leads NBA in bench points per game (27.1) (minimum 7 games).
• Bulls are 9-7 when he scores 20 points or more, 4-13 when he doesn't, 0-3 when he is held to 10 points or fewer.
• Averaged 24.0 ppg in the past four games against the Knicks in which he came off the bench.

Tuesday's Best

Eddy Curry, Knicks center:
Going off against his former team, Curry netted 29 points, eight rebounds and four blocks in New York's 105-100 win in Chicago.
---

Tuesday's Worst

Ricky Davis, Heat forward:
Not going off against his former team, Davis had five points and five turnovers in 25 minutes of action in the battle of the East cellar dwellers.
---
Quote of the Night

"We share the ball very well. I feel a lot of balance in the team."
--
Rockets center Yao Ming
, whose team beat a Gilbert Arenas-less Washington.
• See how all 178 players fared
-- Andrew Ayres

ESPN Research
Detroit and Dallas, which square off Wednesday (9 p.m. ET, ESPN) have alternated wins and losses in their past four games in Dallas, with the Pistons winning the last game. The magic number for this game is 90.
Since January 2000, the Mavericks are 10-2 versus the Pistons when they score more than 90 points. On the flip side, since November 1996, the Pistons are 8-0 when they hold the Mavericks to 90 points or fewer.
Rasheed Wallace vs. Dirk Nowitzki Career Head-to-Head

Category
Wallace
Nowitzki
Wins
14
12
PPG
18.3
20.0
FG pct
50.5
43.7
3-pt FG pct
38.2
32.8
RPG
6.7
8.0
APG
2.2
2.3
SPG
1.0
1.3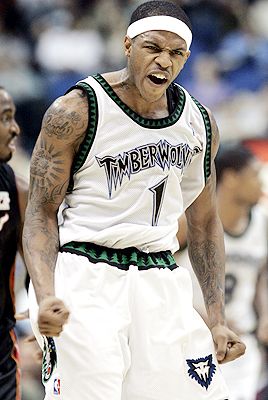 (Jim Mone/AP Photo)
Minnesota's Rashad McCants celebrates a 3-point shot he made in the third quarter against the Heat on Tuesday. McCants led the Timberwolves with 27 points in their 101-91 win.

Chad Ford and Marc Stein discuss the teams that have the most work to do before the trade deadline. Plus, Marc chooses between Steve Nash and Chris Paul.
Guard Optimism