Andrew D. Bernstein/NBAE via Getty Images
Though his team is down 2-0, Dwight Howard said you'll hear no discouraging words from him.

Andrew D. Bernstein/NBAE via Getty Images
Though he lost track of Rashard Lewis in Game 2, Lamar Odom has helped carry the Lakers.
Finals A 'Whole New Ballgame' For Howard

LOS ANGELES --
Dwight Howard
answered the question with a weary laugh, presumably because all of the questions were starting to sound the same. The obvious conclusion, in response, is that this long series for Howard gets even more tiresome if he keeps getting asked about the Los Angeles Lakers' mobile big men and fast-changing coverages ... and how much harder they've made his life than Cleveland's bigs and schemes did.
Isn't that right, Dwight? "The Cleveland series," Howard finally said late Sunday, "is over with. "It's a different ballgame." Sure is. Two games into the NBA Finals, Howard has avoided further trouble with technical fouls and ended his dunk drought at last after going six quarters without one. Yet he has returned to central Florida as an openly exasperated man-child, still waiting to taste the modest joy of a 20-point night after rumbling for what we all thought was a life-changing 40 points in a Game 6 closeout of the Cavs. "I was frustrated tonight and in the first game," Howard admitted after a 101-96 overtime defeat in Game 2 that stuffed his
Orlando Magic
into a 2-0 series hole that only three teams in Finals history have ever overturned. "But being the leader on my team, my teammates cannot see me frustrated. I've got to play through all the different situations and learn from them." Too late. Even before he publicly shared those sentiments, Howard's misery was obvious to everyone in Orlando's locker room ... and L.A.'s. Holding Howard to a combined 29 points in two games with a variety of defensive looks that have (A) clearly kept Howard off-balance and (B) denied him the putback dunks that get him going is a big reason why the Lakers have taken a lead that, let's be real, has an iron-clad feel as the series switches coasts. Asked if he thinks his team has discouraged Howard, even foul-plagued Lakers center
Andrew Bynum
was unable to hold back a "Yeah." "But it's tough," Bynum said sympathetically, "when we're sending two and three people at him every time." Howard's Game 2 line actually looks rather thorough: 17 points, 16 boards, four blocks, four steals and four assists. But he didn't even touch the ball on Orlando's final eight possessions of the extra period, spanning more than three minutes, which helped make sure that the Lakers didn't waste the gift of
Courtney Lee
-- 14 years to the day after the fatal free throws
Nick Anderson
clanked in the 1995 Finals against Houston -- missing a way-harder-than-it-looked layup on an alley-oop pass at the regulation buzzer that could have made this a 1-1 series. "I don't know if he's frustrated, but I know he's mad," said Magic teammate
Hedo Turkoglu
. "He doesn't have a lot of space right now to be dominant." It's both, actually. He's flummoxed and angry that the "crazy things" L.A.'s bigs can do, as Dwight described them, are working so well in Howard's first visit to the Finals, restricting Howard to a mere six baskets so far. Force Howard to rely on his down-low moves and free throws and you see the results. Just to be clear: Howard is certainly not blameless here. Life would be undoubtedly easier if he had at least one trusty go-to move down low, as you've been hearing for ages, or if he could step off the block with a decent face-up jumper that he simply has to develop. Howard is also still a shaky passer out of the swarms, as seen in Game 2 when he had seven of Orlando's fate-sealing 20 turnovers. At 23, then, Howard has lots to polish if he wants to keep coming back to the Finals. Yet he has no chance to be "40-Point Dwight" with everything else going on, starting with the serious struggles of Orlando's vaunted shooters. Those double- and triple-teams Bynum mentioned? The Lakers sent far more of them Howard's way in Game 2 compared to Game 1 because the Magic shot the ball so poorly for their entire L.A. stay. The Magic rained in 3-pointers throughout the Cleveland series, forcing the 66-win Cavs to single-cover Howard far more than they wanted to. In this Game 2, Orlando's guards shot 6-for-26 and 1-for-12 on 3s, which is why Stan Van Gundy felt he had to bench both
Rafer Alston
and
Jameer Nelson
in the fourth quarter. Only Turkoglu and the scorching
Rashard Lewis
shooting a combined 9-for-18 from deep put Lee in a position to convert what would have been the lob of a lifetime. Van Gundy knew coming in that the length and mobility possessed by
Pau Gasol
, Andrew Bynum and
Lamar Odom
would enable L.A. to defend Dwight like Cleveland never could with its main frontcourt tag team of
Zydrunas Ilgauskas
and
Anderson Varejao
. Even the surprises -- like the slender Gasol's numerous successful one-on-one stands against Howard in Game 2, or L.A. chipping away at Howard's resolve by beating him to spots, funneling him toward the baseline and matching him stride for stride in the open court -- haven't hurt Orlando as much as its painful Finals baptism from the perimeter. The Magic simply aren't going to be able to withstand the clanking we've seen from them in this first step onto the game's biggest stage unless their shooting picks up in a hurry. Why would L.A. call off its Howard siege if the brick-fest continues? "I don't think it's much trouble to get our guards shots," Van Gundy said, sounding plenty exasperated himself. "They're not guarding them. They're only guarding three guys, so it's not very hard to get those guys shots. "I don't have any idea how to fix that," Van Gundy added, straying again (as he often does) into too-honest territory. Said Turkoglu: "We have to make [Howard's] job easier." You have to figure that the Magic will have an easier time doing so when they're back on their floor, whether it's by pushing the ball up the court faster or working the ball inside-out without so many turnovers. That likely explains why not even young Bynum could be duped into saying the combination of a 25-point blowout in Game 1 followed by the Lee tease has crushed Orlando's belief. Bynum only half-hesitated, though, after the Lakers did what they failed to do in the previous rounds by winning both of the first two games at home. "Next game is the game we can do some breaking the spirit," Bynum said. Even
Kobe Bryant
-- as morose as we've ever seen him for the past week-plus as he inches toward his first championship without Shaquille O'Neal -- let it slip late Sunday that "we're close." As for Howard, Monday did bring a little peace. It was a cross-country travel day for league officials and much of the world's basketball press, which spared him from further questioning about the good old days against the Cavs. "It's a learning experience for me," Howard said. "I've just got to really do my homework and try to find ways to beat it."
Marc Stein is the senior NBA writer for ESPN.com. To e-mail him, click here.
Playoff Dimes past: May 25 | 26 | 27 | 28 | 29 | 30 | 31 | June 5 | 6 | 7 | 8

By Kevin Arnovitz | ESPN TrueHoop
Fans of teams that play deep into June subject themselves to an emotional roller coaster. The Lakers and Magic have been particularly merciless to their fans. If you follow either team, your stomach has been in knots for eight weeks.
The playoffs weren't 36 hours old before the Magic surfaced as the high seed most likely to suffer a first-round upset. Even as Orlando advanced, they blew enough leads along the way to have observers singing that old hokum that the Magic needed to "learn how to win" before they could seriously contend.
Moments after the Magic's Game 5 collapse to Boston, Zach McCann of Orlando Magic Daily wrote, "That Game 5 meltdown was absolutely painful. I have a lump in my stomach thicker than Brian Scalabrine's thighs. … My night is ruined."
Two weeks later, McCann and the Magic faithful were celebrating one of the bigger upsets in conference finals history with their Game 6 win over Cleveland. That night, McCann euphorically summed up the tumultuous ride this way: "The NBA Finals never seemed possible … But this team grew up in the playoffs and evolved into an elite team that won't quit, that won't go down without a fight under any circumstance. It takes some tough times (struggling against Philadelphia in round one). It takes adversity (Jameer Nelson's injury). It takes inner-conflict (Dwight Howard's touches). It takes growth (Courtney Lee's emergence). It takes seemingly insurmountable odds (down 3-2 to Boston). It takes adjustments (Rafer Alston). It takes unity."
A little over a week (and a razor-thin Courtney Lee miss) later, Magic fans are back in the doldrums. Woody Wommack of OMD wrote that when Lee's shot missed, "I just had a feeling that the Magic weren't going to be able to pull it out in overtime."
Lakers fans have had an equally volatile, but entirely different sort of ride. Burdened with exceedingly high expectations, Lakers partisans have coped with an incredibly talented team that turned in lackluster efforts against inferior opponents for the better part of the playoffs. Following the Lakers' Game 4 blowout loss to a Yao-less Rockets team, Kurt Helin of Forum Blue & Gold penned a thoughtful post that articulated every Lakers fan's resignation about their confounding, mercurial team. "[I'm] beginning to accept that their Achilles' heel is focus and motivation, that it will come and go, and that will not change. During the regular season, two quarters of the good Lakers may often be enough, and during the playoffs it will not be. But I'm pretty much done talking about lessons learned, thinking this team has finally turned a mental corner, because I don't think it has and I don't think it will."
The Lakers finally seemed to turn the corner after their Game 5 win over Denver in the conference finals. Their dominant performance prompted Helin to write, "Now that was the Lakers team I remembered." As their team has sustained that momentum, Lakers fans have been brimming with confidence. After last night's overtime win for the Lakers, Helin wrote, "[The Lakers] are going about their business and saying all the right things. As a fan, I am smiling a little more now. Despite how close game two was, I feel more confident after that game than I did before it started, and not just because of the 2-0 series lead."
The Lakers come into Central Florida on a roll, but there's just something about this bipolar postseason -- and both the Lakers and Magic -- that makes you think both teams still have a bout or two of indigestion to contend with before the ride comes to a complete stop. Hold on tight.
By Pete Newmann
ESPN Stats And Information

Kobe Bryant had 40 points and eight assists in Game 1. He posted 29 points and eight assists in Game 2. What does that add up to? The last four players who reached those thresholds through two games went on to become the NBA Finals MVP.
69-16 Through First 2 Games of NBA Finals
Year
Player
Team
Pts
Ast
2009
Kobe Bryant
Lakers
69
16
1997
Michael Jordan
Bulls
69
17
1992
Michael Jordan
Bulls
78
21
1991
Michael Jordan
Bulls
69
25
1969
Jerry West
Lakers
94
18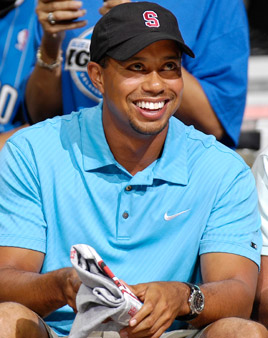 Fernando Medina/NBAE via Getty Images
While the Staples Center floor is often littered with celebrities, Tiger Woods, one of the Magic's foremost season-ticket holders, could be in Orlando's house for Game 3, rooting on his childhood favorites ... the Lakers.
ESPN Stats And Information

If the Magic can't take Game 3 on Tuesday in Orlando, they'll fall into an unenviable hole that no NBA team has ever crawled from. If Kobe and Co. win, Orlando might want to consult Red Sox slugger David Ortiz, the linchpin of the last pro sports team in North America to come back from such a deficit.
Teams Down 3-0 in Best-of-Seven Series In Major North American Sports
League
3-0s
No.
Comebacks
NHL
161
2
('42 Maple Leafs vs. Red Wings; '75 Islanders vs. Penguins)
NBA
88
0
None
MLB
31
1
('04 Red Sox vs. Yankees)
Nets guard Devin Harris, who played in the 2006 Finals with Dallas, discusses Courtney Lee's missed shot, the NBA Finals and appealing cities to free agents.
The Herd
By John Hollinger
ESPN Insider

One underrated factor in the first two games has been L.A.'s ability to control Orlando's "secondary break." The Magic had two fast-break points in Game 2 after getting zero in Game 1, partly because both Mickael Pietrus and Rashard Lewis botched fairly easy odd-man break opportunities in Game 2.
But my spies in Orlando say the bigger problem is the lack of a quick push upcourt from the guards. The way the Magic often burn opponents isn't on a traditional fast break, but by pushing the ball quickly up one side and then reversing it for a wide-open 3 on the weak side. Lewis, in particular, killed Cleveland with this in the Eastern Conference finals, but it hasn't been a problem for the Lakers in the first two games of the Finals.
Sunday's game proves once again that the finish matters much more than the start. That was an exciting, memorable game despite the fact that the first 20 minutes were gouge-my-eyes-out awful. The game set the record for the lowest-scoring first quarter in Finals history at 15-15. Much of the second was even worse, and the score was only 29-26 with 4½ minutes left in the half before both sides awakened. It wasn't like it was a riveting defensive battle, either. It was mostly ugly bricks and bad turnovers, including a series of illegal screens and three-second violations.
To read the entire PER Diem, click here
What's Lost By Gaining Nelson

Matt (Chicago):
Any thoughts on
Jameer Nelson
's comeback? I feel like it messed with all of Orlando's guards. I know he's their best guard, but he's out for 4 months and the rotation Stan Van had in the first 3 rounds was working well for them. Most athletes are creatures of habit and I feel like the Nelson comeback threw the team out of it's ryhthm. I thought he could've been used if, after Games 1 & 2 in LA, it appeared they really needed him. Why do coaches do that?
J.A. Adande:
It's interesting, all the former players I talked to thought it was a bad idea to bring Jameer back, while all the coaches I talked to said they'd do it in a second. Players thought it would ruin chemistry. Coaches thought you could never have enough scorers. I think it was asking too much to have a guy step from a four-month layoff into the NBA Finals. By bringing back Nelson, Stan Van Gundy has lost
Rafer Alston
and
Anthony Johnson
. I wouldn't make that trade right now (especially when you're not getting the All-Star version of Nelson).
Ahmad (Calif.): Are we all guilty of Fisher-hating prematurely?
J.A. Adande: Not everybody, just those who wanted to fire Phil Jackson for playing Derek Fisher at all. It's fair to criticize Fisher's 37 percent shooting in the playoffs. But have you seen anything from Jordan Farmar or Shannon Brown that warrants heavy minutes? Farmar was looking for his own shot too much in Game 2, and is prone to making turnovers. Brown isn't used to playing at this high level. Fisher keeps making little plays that are big. Sometimes it's as subtle as an extra pass. Sometimes it's as big as that steal last night. Um, I think Phil knows what he's doing.
To read the full J.A. Adande chat, click here