(Rocky Widner/Getty Images/NBAE/Getty Images )
Dwight Howard was on the defensive when Dwyane Wade (42 points) went on the attack.

(Victor Baldizon/NBAE via Getty Images)
Alonzo Mourning overcame kidney disease to win a ring with the Heat in 2006. His No. 33 was retired.

(Melissa Majchrzak/NBAE/Getty Images)
Al Harrington reacts after being ejected by Eli Roe in the final minute of a 112-104 NY loss to Utah.
More Or Less: A Tale Of Two Shooters

Dwyane Wade and Dwight Howard both played central roles in Monday night's 101-95 win by the Magic over the Heat. No surprise there.
But what's surprising is the contrast in the two teams' respective approaches to how much one player is expected to carry the scoring load.
The Heat need Wade to shoot less. But the Magic need their big man to shoot more.
Wade, who had 42 points in the loss, has been involved in nearly 50 percent of his team's scoring (points or assists) this season. It's a heavy physical burden, and one Wade is capable of carrying.
I don't think the problem is going to be a fatigue factor with Wade. The real problem is the fact that you can't beat teams by yourself. Miami won't get by Boston, Cleveland or Orlando in the playoffs with that one-man approach. Wade needs help.
The short-term answer? Look for Michael Beasley. The rookie took only six shots in this game. His game isn't fully complete, but he clearly is a guy you can isolate to score in a variety of ways. Give him some offensive freedom and he can get it done. It will only make Wade and the team better.
The Heat need to be concerned about holding on to the fifth playoff spot. They are now 39-35, two games ahead in the win column over the No. 6 76ers (37-35). Even if they hold the No. 5 spot, however, I still think Atlanta would beat them by virtue of a stronger starting five and a proven ability to take their game to another level. But if the Heat end up in the sixth spot, I can't see them taking the Magic or Celtics past a five-game series. The Heat have two rookies, Beasley and Mario Chalmers, and a second-year guy, Jamario Moon, with no playoff experience. Wade or no Wade, that's a tough way to challenge some seasoned playoff teams.
As for the Magic, I though Orlando did a better job in this game of looking for Howard, who was 8-for-11 from the floor, good for 22 points and 18 rebounds. But it's not always this way. In the St. Patrick's Day loss to Cleveland, he barely touched the ball, taking only eight shots, none in the fourth quarter. To me, if you have the best center in the league, you get him the ball in the fourth quarter.
On Monday, Howard became the youngest player to reach 5,000 rebounds, surpassing Wilt Chamberlain, although it should be pointed out that Wilt played in college and reached 5,000 sooner once he got to the NBA. Howard has been outstanding on the boards since he arrived in the league, and his offense has gotten better and better with improved footwork.
In a few weeks, he'll get to show on the playoff stage just how good he's become. Wade will have something to show, too, even if he's still the only one carrying the load for Miami.
ESPN analyst Tim Legler is a regular contributor to the Daily Dime
Dimes past: March 16 | 17 | 18 | 19 | 20 | 21-22 | 22 | 23 | 24 | 25 | 26 | 27 | 28-29 | 30
How The Bobcats Could Chart New Territory

By Brett Hainline | Queen City Hoops/TrueHoop Network
Editor's note: We asked Brett Hainline of Queen City Hoops to spell out exactly how the Charlotte Bobcats, who stand two games behind the Chicago Bulls for 8th place in the Eastern Conference, might make the unlikely leap out of the lottery and into their first playoff berth. Here is their potential path to the playoffs:
With nine games remaining, the Bobcats have matched their franchise record for wins and would seem a lock to set a new record that is at least a couple of tallies higher. This Charlotte team has beaten the Lakers and the Celtics. They've gone 5-2 in overtime games, showing improvement in clutch time, when they used to fade. The Bobcats will have a winning record at home. But the season will still be a bit of a disappointment ...
If they don't make the playoffs. That is what the expectation around the Queen City became when Larry Brown was brought on as coach. Those expectations were ratcheted even higher with the various trades throughout the season that made the Bobcats a more complete (and more Larry Brown-ish) team. Barring Gerald Wallace's midseason rib-adjustment, they have been relatively healthy and improvement has been evident. But it hasn't been enough to draw the city in -- they want Cleveland (or Boston) in CLT for a couple of extra dates after the players would normally be on the golf course. And here is how that happens:
TUESDAY
Lakers at Bobcats:
5-1. The Bobcats' record in their last six against the Lakers. Make it 6-1 with a payback game after the last one ended with
Gerald Wallace
in the hospital. Bobcats win (34-40, 1.5 games back)
Bulls at Pacers:
Chicago has but 12 road wins this season and cannot add to it playing in a building where Boston, Atlanta, the Lakers, Houston, Miami, Orlando, Cleveland ... you get the idea ... have lost already this season. Bulls lose (36-40, 1 game ahead)
WEDNESDAY
Bobcats at Celtics: What goes up must come down -- the Bobcats do not have enough in the tank to travel to Boston and win following the game against the Lakers the night before. Bobcats lose (34-41, 1.5 games back)
FRIDAY
Heat at Bobcats: Dwyane Wade nearly comes up with a triple-double, falling just short in ... turnovers. Bobcats win (35-41, 1 game back)
SATURDAY
Nets at Bulls: Brook Lopez goes for 30 and 15 in his late rush at the ROY trophy. Bulls lose (36-41, 0.5 games ahead)
SUNDAY
Bobcats at Pistons: Rasheed Wallace sees Larry Brown on the sideline and reverts back to championship form, leading the Pistons to victory. After the game, he also goes back in time, only answering, "Both teams played hard." Bobcats lose (35-42, 1 game back)
TUESDAY, APRIL 7
76ers at Bobcats: The Cats won in Philly a week and a half prior by outrebounding the Sixers by 18. This time they do it by winning the battle of the boards by 10 and matching Philly in turnovers -- a problem for Charlotte against Philly, as they have averaged over 17 a game against them this season. Bobcats win (37-41, 0.5 games back)
Knicks at Bulls: Derrick Rose shows Mike D'Antoni what he missed out on by not waiting for the lottery results. His 25 points, 8 assists, and 5 rebounds carry the Bulls over the Knicks. Ben Gordon is seen crying at his locker after the game, mumbling something about seven seconds or less and a big payday. Bulls win (37-41, 1 game ahead)
THURSDAY, APRIL 9
76ers at Bulls: The 76ers' pressure defense gives Rose fits (he has averaged 4 turnovers against Philly this season) and the Bulls cannot overcome all the fast-break opportunities for Philadelphia. Bulls lose (37-42, 0.5 games ahead)
FRIDAY, APRIL 10
Bobcats at Thunder: With Kevin Durant on the court, the Thunder have a defensive efficiency of about 110. Even the Bobcats can score against defense like that. On the other end, Gerald Wallace make life tough on the league's future scoring leader and shows the kind of all-around game Durantula should learn to emulate. Bobcats win (37-42, tied for 8th)
SATURDAY, APRIL 11
Bobcats at Bulls: The Bobcats will have to contend with a late-night flight from a cornfield in the middle of Oklahoma while the Bulls have been sleeping at home after their Thursday game in the Windy City. Bobcats lose (37-43, 1 game back)
MONDAY, APRIL 13
Bulls at Pistons: Detroit remains in a precarious spot at 7th in the East, rarely more than a game or 2 ahead of the Bulls/Bobcats in 8th. For the two teams, all 3 games this year have gone to the home team -- the Pistons make it all 4. Bulls lose (38-43, 0.5 games ahead)
Bobcats at Nets: Through his UNC connections, Michael Jordan gets the Tar Heels to honor Vince Carter at halftime of this game ... in Chapel Hill. Vince is at the airport for the duration of the game, and the Bobcats capitalize. Bobcats win (38-43, tied for 8th)
WEDNESDAY, APRIL 15
Raptors at Bulls: Playing at the same time as Charlotte, the Bulls go into the game knowing they must win to have a chance. All the Raptors are playing for is pride (and a new contract for Shawn Marion). The battle of '06 lottery picks Bargnani and Tyrus Thomas is lopsided and the Bulls win. Bulls win (39-43, 0.5 games ahead)
Bobcats at Magic: The Magic have the 3-seed wrapped up and cannot catch the Celtics for 2; Orlando's starters play less than a quarter each and the Bobcats knock off the Magic bench for the playoff-clinching win. Bobcats win (39-43, tied for 8th -- Bobcats own tiebreaker with 2-1 season series edge)
More of Brett Hainline's work can be seen at Queen City Hoops.
Inside Wade's World Of Numbers

By Elias Sports Bureau
Dwyane Wade scored 42 points Monday, giving him 505 points in 15 games in March, an average of 33.7 points per game. That's the most points by an NBA player in a one month since Kobe Bryant scored 525 (in only 13 games) in March 2007.
By Andrew Ayres
ESPN.com

MONDAY'S BEST
Richard Jefferson, Bucks
: The ex-Net torches the Nets, sinking 4-of-5 3-pointers en route to 29 points and 10 rebounds in a 107-78 shredding of New Jersey.
---

MONDAY'S WORST
Vince Carter, Nets
: Only nine points for Vinsanity in a blowout loss to the Bucks, his lowest output since a Jan. 31 win over the Sixers. The Nets can now throw in the towel on 2008-09.
---
QUOTE OF THE NIGHT
"Y'all can go and collect your money."
-- Alonzo Mourning telling those in the crowd who had their money on whether Zo would weep or not (he did) when his No. 33 was retired by the Heat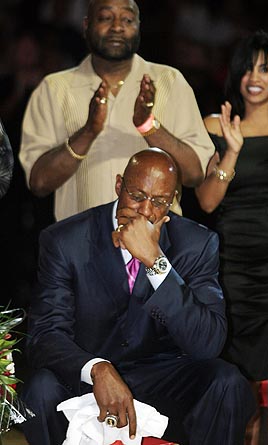 AP Photo/Jeffrey M. Boan
Former Heat center Alonzo Mourning gets emotional during his jersey retirement ceremony at halftime of the Heat-Magic game.
By Elias Sports Bureau

With his 11th rebound Monday against the Heat, Dwight Howard reached the 5,000 mark for his five-year NBA career. No active player has totaled at least 5,000 rebounds over his first five seasons in the league. The last player to do so was Buck Williams, who reached the 5,000-rebound mark in 1986 during his fifth NBA season.
He also became the youngest player in NBA history to record 5,000 rebounds. Howard is 23 years and 112 days old as of March 30, 2009 (born Dec. 8, 1985). Howard is already the youngest in league history to reach 1,000, 2,000, 3,000 and 4,000 career rebounds.
Youngest To 5,000 Boards
Player
Yrs, Days
D. Howard
23, 112
Wilt Chamberlain
25, 128
Dave Cowens
25, 153
Walt Bellamy
25, 197
Moses Malone
25, 265
Kevin Garnett
25, 296

Hall of Famer Robert Parish talks about the impact of big men on basketball and his relationship with Kevin Garnett. Parish would advise LeBron James to stay in Cleveland.
He says more big men need to be coaching big men in the NBA ranks.
The Herd